After an unprecedented infection season, Strep A finally on the decline in the UK
The extraordinary rates of Strep A seen in the U.K. this fall and winter may be on the decline, according to the UK Health Security Agency (UKHSA).1 Nearly 30 children under the age of 15 died in the U.K. from September 2022 to January 2023 from invasive Strep A infections.
Strep A is a common infection in children that can cause scarlet fever and strep throat. There have been over 40,000 reports of scarlet fever in the U.K. since September, while the last peak from 2017-2018 witnessed only slightly more than 30,000 cases across the entire season.2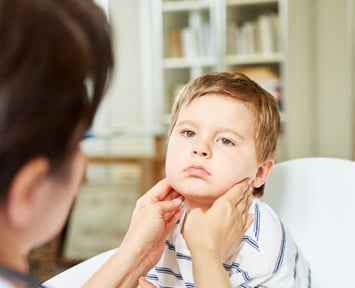 A lower threshold to prescribing antibiotics led to shortages across the country
Infections have been so intrusive that NHS England issued guidance in December for general practitioners (GPs) treating children up to age 18 across the U.K. that lowered the threshold for prescribing antibiotics with potential Strep A infections. UKHSA wrote GPs in early December asking them to "have a low threshold to consider and empirically prescribe antibiotics to children presenting with features of Group A Streptococcal (GAS) infection, including where secondary to viral respiratory illness."3
Then, pharmacists in the U.K. began reporting shortages of the antibiotics used to treat Strep A.4 Penicillin and amoxicillin demand increased, and pharmacists dealt with annoyed customers when they could not restock the antibiotics. Wholesale prices for the drugs spiked as much as 850%, according to some pharmacists, and those prices were absorbed by the national health service or drugstores.5
The interim guidance issued to GPs in December ended, effective Feb. 15, due to recent falling rates in Strep A and GPs have been advised to return to the National Institute for Health and Care Excellence (NICE) Sore Throat (Acute) NG84 guideline for all age groups.
In-office testing is key
At-home Strep A tests are not sold in England through NHS because NICE has said their accuracy is uncertain. But Strep A home test kits sold out online across the country during the infection spike in December as parents tried to find ways to diagnose their children.6
"It is a clinical diagnosis," Professor Kamila Hawthorne, chair of the Royal College of GPs, told The Guardian. "So long as the parent watches their child and brings their child in."
Testing involves a throat swab taken by physicians, which is used for confirmation of infection and then for contact tracing.
SEKISUI Diagnostics offers the OSOM® Strep A Test for Healthcare Professionals. It is a color immunochromatographic assay intended for the qualitative detection of Group A Streptococcus antigen directly from throat swab specimens.
It has easy-to-read two color results and 96% sensitivity (98% specificity versus culture). It includes two additional test sticks for external QC testing, and it provides results in five minutes.
References
1 Strep A infections may be on the decline early indications suggest, Nursing in Practice
2 Group A streptococcal infections: activity during the 2022 to 2023 season, UK Health Security Agency
3 'Low threshold' advice for strep A-related antibiotic prescribing ends, Pulse
4 UK pharmacists report shortages of strep A antibiotics, The Guardian
5 Antibiotics prices surge in UK amid Strep A outbreak, leaving drugstores 'footing the bill', CNBC
6 Strep A home-test kits sell out after spate of UK deaths sparks panic buying, The Guardian