In the public mind, drug tests are frequently and immediately linked to substance abuse. While that association is valid, there are many reasons why a drugs-of-abuse test may be necessary: medical screening needs beyond substance abuse, legal or forensic information, employment drug testing, sports/athletics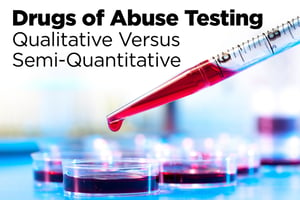 testing, and monitoring use of pain medication, for example. Screening is also a vital element in treating substance abuse and addiction. In 2017, an estimated 20.7 million people (age 12 and older) needed treatment for a substance use disorder. According to the National Institute on Drug Abuse, substance abuse costs the U.S. more than $740 billion annually in expenses associated with crime, lost productivity, and healthcare.
Drugs-of-abuse testing is the detection of illegal or prescribed substances in the urine, blood, saliva, hair, or sweat. Many different classes of drugs can be screened, including (but not limited to):
Amphetamines
Benzodiazepines
Cocaine
Opiates
Barbiturates
Cannabinoids
Methadone
Phencyclidine
How It Works
In the initial testing phase, in which the healthcare professional seeks only a positive or negative result, either a qualitative or a semi-quantitative test can be used. A qualitative test indicates the presence or absence of a substance. The results are expressed not numerically, but in qualitative terms such as positive, negative, reactive, nonreactive, normal, or abnormal. A semi-quantitative test is similar to a qualitative test in that it does not measure the precise quantity of a substance, but the results are expressed as an estimate of how much of a detected substance is present. Test results for semi-quantitative tests may be shown as trace amount; 1+, 2+, or 3+; or positive at 1:160 (titer or dilution).
These are the two types of tests we will discuss today. The only way to get a quantitative result is through a mass spectrometry test, which is not available in all labs.
Choosing the Right Type of Test
At first glance, it seems like a semi-quantitative test would be the best choice. After all, the results seem to give you more information. But in reality, this is not true: both tests give you simply a positive or negative result. The more-complex semi-quantitative test is pricier and more labor-intensive, while a qualitative test will give you the same results in an easier and less-expensive way. For both qualitative and semi-quantitative tests, the cutoff value, or the value chosen by the lab to define a positive or negative result for its patient population, will be the same. Additionally, both qualitative and semi-quantitative tests use the same CPT code (80307) for reimbursement.
Drugs-of-abuse Test Menu for the SK500 Clinical Chemistry System
Sekisui Diagnostics will launch a new drugs-of-abuse test menu for its SK™500 Clinical Chemistry System in fall 2019. The SK500 chemistry instrument and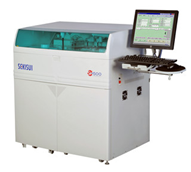 associated reagents offer an ideal system for low- to moderate-volume laboratories seeking exceptional throughput with minimal use of space and water. The SK500 is a compact, efficient instrument with a full menu of reagents specifically designed and packaged for the system.
The new test menu will include the following assays:

Drug testing is performed for numerous reasons, and both providers and patients want a test that can be completed quickly and accurately. Sekisui Diagnostics is working to provide high quality convenient testing for drugs of abuse. For more information visit www.sk500.com