The clinical laboratory workforce is under siege.1. Laboratory professionals are retiring or leaving the profession in droves. This mass exodus is disrupting delivery of healthcare services for patients and healthcare providers.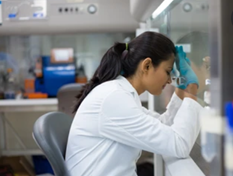 The U.S. Bureau of Labor Statistics has projected a nationwide need for a 13% average increase in medical laboratory technologists and technicians between 2016 and 2026, which is nearly double the average increase in all occupations.2 Another data source, the U.S. Department of Health and Human Services, Human Resources and Service Administration (HRSA), projected a 22% increase in demand for medical and clinical laboratory technologists and technicians between 2012 and 2025.3
The shortage of medical laboratory technicians and scientists is not a new problem.
For nearly two decades, the American Society for Clinical Laboratory Science and others in the laboratory community have been sounding the alarm.4 In June 2000, representatives from 12 laboratory organizations and two government agencies met to participate in the first Summit on the "Shortage of Clinical Laboratory Personnel." Yet the problem persists.
Obstacles
Factors exacerbating today's workforce shortage include:3
The retirement of the aging workforce.

An increase in demand for laboratory services.

Changes in the practice of clinical laboratory science due to technology advances.

Vacancy rates that exceed the number of medical laboratory science (MLS) and medical laboratory technician (MLT) graduates, in part due to unattractive earnings potential.



Solutions
Meeting future workforce needs calls for collaboration among education and training programs, employers and professional organizations. Here are some potential solutions offered by the American Society for Clinical Pathology and Center for Health Workforce Studies of the University of Washington in their 2021 report "The Clinical Laboratory Workforce: Understanding the Challenge to Meeting Current and Future Needs."5
Improve the visibility of clinical laboratory occupations
Identify opportunities to encourage interest in clinical laboratory career education and training, especially among younger students, and provide tuition support, stipends or scholarships to potential students.

Offer incentives to laboratory employees who attend recruitment and awareness-building activities for the profession.

Leverage funding partnerships to create education and training opportunities.

Encourage employers to provide clinical training sites and employment resources for students in clinical laboratory programs.

Promote consistent use of occupation titles and roles in the lab. Greater clarity of titles and roles could help increase visibility of these occupations and aid communicating opportunities for professional growth and career pathways in the field.




Improve workforce recruitment and retention
Encourage professional development and job satisfaction through financial incentives, schedule flexibility, benefits, regular pay increases, tuition incentives and sign-on bonuses.

Provide opportunities for career progression through tier levels, increases in pay and elevated titles.

Examine opportunities for on-the-job training.
Focus on diversity and inclusion in the laboratory
Partner with STEM programs to recruit students from underrepresented groups, develop a clearinghouse of scholarships, improve data collection to better understand trends in diversity among students, and recruit more men

Given the shortage of medical technologists in the United States, individuals from other countries with training or experience in medical laboratory can find work in the U.S. through one of several visa programs,6 including:
H-1B visa (the program used by most skilled workers, including medical technologists).

TN visa (for trained professionals from Mexico or Canada with a valid job offer from a designated employer).

EB-3 visa (for permanent residence).

O-1 visa (for individuals with extraordinary abilities in sciences, education, business, or athletics)
Choosing Wisely®
Physicians can do their part to address laboratory workforce shortages simply by ordering fewer (and unnecessary) tests. Begun in 2012, Choosing Wisely7 is an initiative of the American Board of Internal Medicine (ABIM) Foundation that seeks to advance a national dialogue on avoiding unnecessary medical tests, treatments and procedures. National organizations representing medical specialists – including laboratory professionals -- are invited to identify tests or procedures commonly used in their field whose necessity should be questioned and discussed.
Want to learn more about working in a profession that saves lives? Read the blog!
References