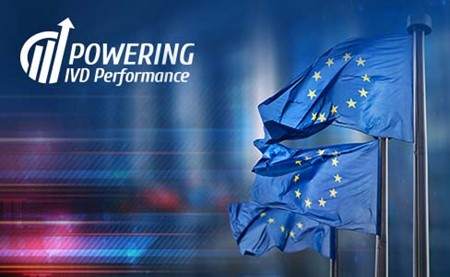 Medical and in vitro diagnostic (IVD) devices are among the most highly regulated products made and marketed in the world. Within the European Union (EU), device safety and performance requirements are laid out in sector-specific legislation that includes the Medical Devices and In Vitro Diagnostic Directives (Directives 93/42/EEC and 98/79/EC). The new In Vitro Diagnostic Regulation (IVDR) will replace the EU's current directive on IVD medical devices (98/79/EC).1,2 In this short blog post, we discuss the implications of these changes for suppliers of raw materials and developers of IVDs.
Regulatory changes drive the need for alternative material sources for IVDs
Manufacturers of IVDs need to be prepared for regulatory changes driving a need for alternative material sources.3,4
The new IVD medical devices regulation (2017/746/EU) brings EU legislation in line with technical advances, changes in medical science and progress in law-making.4 Regulatory changes, including IVDR and REACH (Registration, Evaluation, Authorisation and Restrictions of Chemicals) have been implemented to promote more sustainable and environmentally conscious practices, as well as higher standards of quality and safety from IVDs.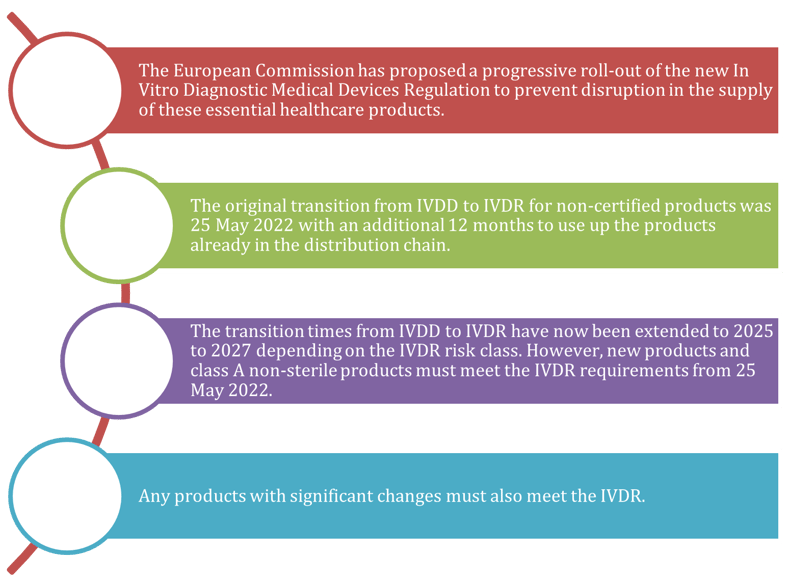 ,
In Vitro Diagnostic Medical Devices Regulation (europa.eu)
As leaders in the IVD space, we understand the IVD regulatory landscape and can provide raw materials and enzymes that meet the latest regulations.
IVDR may have changed, but SEKISUI Diagnostics' focus on quality hasn't
Even though IVDR does not trigger revalidation of products, it does require an abundance of supporting information.
IVDR is keeping R&D teams busy as they work towards compliance with the new requirements. It's revealing potential gaps in the management and control of critical raw materials, making it even more important that R&D teams work with suppliers that can offer the required quality standard, supporting documentation and technical assistance.
Here at SEKISUI Diagnostics, we are focused on innovating and developing highly accurate diagnostic tests, reagents and systems. We are proud of our clinical diagnostic expertise and have taken steps to ensure that we can always provide high-quality raw materials for a variety of applications.
We are leaders in the manufacture of high-quality enzymes and specialty biochemicals to the global healthcare market.
Our capabilities and expertise make us a reliable provider of REACH compliant materials
In Europe, SEKISUI Diagnostics combines internal strengths for providing outstanding products for numerous applications, allowing for fast accessibility and excellent customer service.
REACH is the EU's overarching piece of chemicals legislation, affecting the manufacture, import and marketing of all substances and mixtures, as well as the use of substances in products including medical and IVD devices and their associated packaging .REACH compliance means that certain raw material choices must now be ruled
out and R&D teams will need to re-visit their raw material options, making it critical to work with suppliers who offer REACH-compliant raw materials. We are a UK based enzyme manufacturer and are REACH compliant. We do not use any Substances of Very High Concern (SVHCs) on the Authorisation list in manufacturing at our UK site.
SEKISUI Diagnostics can offer a range of enzymes with proven application in clinical chemistry reagents, biosensors and point of care tests (POCT):
Our range of

cholesterol esterases

and

cholesterol oxidases

have optimal activity, good pH and thermal stability and are suitable

for

the

formulation of cholesterol testing reagents or use in biosensor application

s

We have a range of enzymes suitable for use with glucose biosensors, including our

Glucose Dehydrogenase FAD Dependent

, which has high activity, purity, specificity and stability for an accurate determination of D-glucose in blood or urine

For your immunodiagnostics applications, we can supply

a wide range of enzymes

to improve assay sensitivity and specificity and test performance. Our

Smartbond streptavidin magnetic beads

have been developed with proprietary conjugation chemistry to produce the highest biotin-binding capacity in the market
Our extensive enzyme portfolio meets REACH regulations. Find out how our catalogue of enzymes can compliantly support your point-of-care devices.
SEKISUI Diagnostics' commitment to environmental and sustainability credentials
Here at SEKISUI Diagnostics, we strive to deliver products that have minimal impact on the environment while working as a team to conserve, recycle and improve our own surroundings.6
Learn how SEKISUI Diagnostics can support your current and future IVD needs.
References:
RoHS, REACH and the Rest: EU Substances Regulation Applicable to Medical Devices and IVDs. Available at: https://www.mddionline.com/regulatory-quality/rohs-reach-and-rest-eu-substances-regulation-applicable-medical-devices-and-ivds

(Accessed November 2021).

FAQS: In vitro diagnostic medical device regulation (IVDR). Available at:

https://www.tuvsud.com/en-gb/industries/healthcare-and-medical-devices/medical-devices-and-ivd/medical-device-market-approval-and-certification/eu-in-vitro-diagnostic-medical-device-regulation/faqs-in-vitro-diagnostic-medical-device-regulation-ivdr

(Accessed November 2021).

Thema-med. What are the main changes provided for in the Regulation on in Vitro Diagnostic Medical Devices IVDR (EU) 2017/746.

Available at

https://www.thema-med.com/en/main-chianges-provided-for-in-the-ivdr-2017-746/

(Accessed November 2021).

European Chemicals Agency. Upcoming changed to REACH information requirements. Available at:

https://echa.europa.eu/-/upcoming-changes-to-reach-information-requirements

(Accessed November 2021).

European Commission. Medical Devices – New regulations. Available at: https://ec.europa.eu/health/sites/default/files/md_newregulations/docs/timeline_mdr_en.pdf


(Accessed

November 2021).

Sekisui Diagnostics. About us. Available at:

https://sekisuidiagnostics.com/about-us/

(Accessed November 2021).