Is it SARS-CoV-2? Influenza? RSV? Strep? In an unpredictable 2021-2022 respiratory season, prompt testing will tell the difference.
Turns out that what appeared to be the sole redeeming feature of the pandemic might come with a dark side.
In this past respiratory season, non-COVID respiratory diseases, including influenza and respiratory syncytial virus, or RSV, were almost non-existent, most likely due to public health measures, such as mask-wearing, social distancing and scrupulous hand hygiene. What could be bad about that?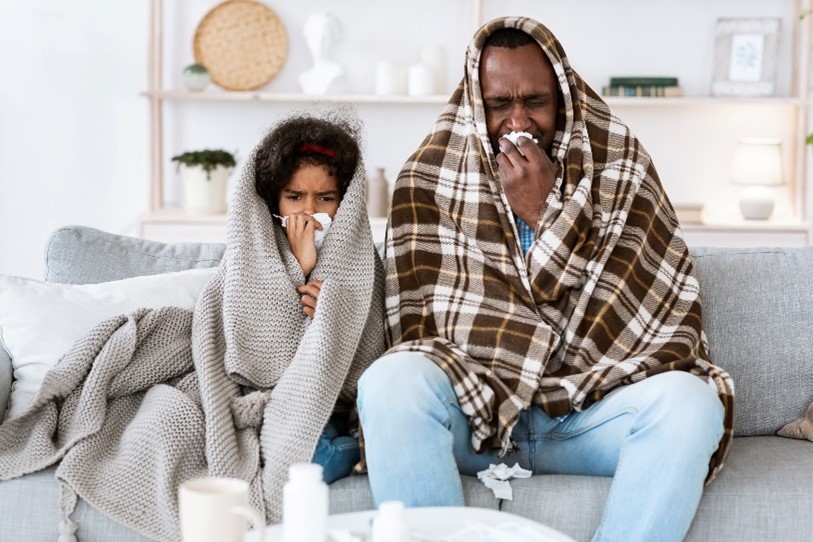 Some fear that by avoiding flu, RSV, strep, adenoviruses, even common colds, we may have failed to strengthen our immunity to them. Consequently, this fall, we may face aggressive respiratory illnesses. In other words, it may be time to pay off our "immunity debt." And if that's true, then prompt testing will be essential in order to respond appropriately.
We may go back to having a flu surge, an RSV surge in children, and so on, warned the UK's chief medical officer, Chris Whitty, speaking at the NHS Confederation Conference in June. "I think we need to be aware of and brace for the fact that the coming winter may well be quite a difficult one."
What We Saw – or Didn't See
Flu typically places a substantial burden on the health of people each year. The U.S. Centers for Disease Control and Prevention estimates that in each year from 2010 to 2020, influenza caused 9 million to 45 million illnesses, 140,000 to 810,000 hospitalizations, and 12,000 to 61,000 deaths. However, following the declaration of the public health emergency, below-average levels of influenza were observed across almost all reporting states.
In England and Wales, deaths caused by flu and pneumonia in 2018 totaled 29,516 and amounted to 26,398 in 2019, according to figures from the Office for National Statistics. In contrast, there was a sharp drop in the U.S. in 2020, with 15,437 deaths involving (and due to) influenza and pneumonia.
In Hong Kong, influenza transmission declined substantially after the implementation of social distancing measures and changes in behavior in late January 2020, with a 44% reduction in transmissibility. In Australia, public health measures targeting COVID-19 led to a 98% reduction in detections of RSV and a 99.4% reduction in detections of influenza in Western Australian children through winter 2020.
That's the good news. Now the bad news.
In recent years, studies have suggested that frequent stimulation and "training" of innate immunity increase its effectiveness. This stimulation by exposure to pathogens is more frequent in children than in adults. But when infectious contact is reduced, so too is immune training, potentially leading to a greater susceptibility to infections.
"There's never been a time in recent history where the human population was as immunologically naive as it is here in 2021," Scott Hensley, a viral immunologist at the University of Pennsylvania, told The Scientist.
The Saga of RSV
Like influenza, respiratory syncytial virus, or RSV, declined with COVID-related lockdowns after March 2020. But that situation took a turn in 2021.
RSV is an RNA virus primarily spread via respiratory droplets and through direct contact with a contaminated surface. It is the most common cause of bronchiolitis and pneumonia in children under one year of age in the United States. Older adults with chronic medical conditions are also at risk of severe disease from RSV infection.
Thanks to the adoption of public health measures during the pandemic, RSV activity in the U.S. was low in the months following May 2020. But that changed in 2021, to the point that in June, the U.S. CDC issued a health advisory to notify clinicians and caregivers about increased interseasonal RSV activity in the Southern states, and encouraged broader testing for RSV among patients presenting with acute respiratory illness who tested negative for SARS-CoV-2.
Health officials in Australia also identified higher levels of interseasonal RSV circulation in parts of the continent during late 2020 and in South Africa in early 2021. In July 2021, New Zealand reported nearly 1,000 RSV cases in a five-week period. The usual average is 1,743 over the full 29-week winter season.
It Comes Back to Testing
RSV, influenza and COVID-19 share similar symptoms, except for the loss of taste or smell that can occur with COVID-19, points out Dr. Gregory Poland, an infectious diseases physician and researcher at Mayo Clinic. "It is important to seek medical care to get that swab because if it's influenza, we can treat it. If it's RSV or COVID-19, and it advances or gets worse, there are things we can do, including masking, quarantining and isolating, so you don't spread it to other people."
Sekisui Diagnostics offers products to help providers quickly identify respiratory illnesses and treat them appropriately.
Talk to your distributor to learn more about what tests are available locally to help you prepare for what looks to be a busy 2021-2022 respiratory season.