Food as Medicine Part 4
Feeding 8 billion people worldwide is a challenge. Ensuring that 8 billion people consume nutritious food is even harder. Obstacles such as extreme heat, water shortages, poverty, misguided government policies and, most recently, a pandemic, stand in the way. Governments, citizens and professionals in public health and agriculture are seeking solutions. And they are doing so with urgency.
Recent evidence suggests that the number of people unable to afford a healthy diet around the world rose by 112 million to almost 3.1 billion, reflecting the impact of rising consumer food prices during the pandemic, according to "The State of Food Security and Nutrition in the World 2022" from the United Nations Food and Agriculture Organization.1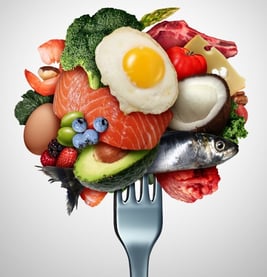 Exacerbating the situation, the measures put in place in 2020 to contain COVID-19 sent the world and most countries into economic recession, with per capita incomes contracting in more countries than at any time in the recent past.2
What is a Healthy Diet?
The United Nations Food and Agriculture Organization refers to nutritious foods as safe foods that contribute essential nutrients, such as vitamins and minerals (micronutrients), fiber and other components which are beneficial for growth, and health and development, guarding against malnutrition.3 What's more, in nutritious foods, the presence of saturated fats, free sugars, and salt/sodium is minimized, industrially produced trans fats are eliminated, and salt is iodized.
One key element of diet quality is dietary diversity, or the variety of foods from different food groups. Eating a larger variety of foods across food groups is associated with decreased risk of insufficient intake of several micronutrients and related deficiencies.4
More Food, or Better Food?
Historically, national food security policies have been designed to ensure food availability, particularly for cereals (e.g., maize, wheat or rice). While low-cost cereals provide dietary energy, they fail to meet other dietary requirements, including adequate macronutrients and micronutrients and a diverse intake of foods.5
Diet-related health costs linked to mortality and non-communicable diseases are projected to exceed $1.3 trillion per year by 2030.6 In addition, agrifood systems are a major source of global greenhouse gas (GHG) emissions, and they place excessive pressure on land, water and other natural resources. Switching to plant-based dietary patterns would reduce the social costs of GHG emissions by 41%-74% by 2030.
---
Diet-related health costs linked to mortality and non-communicable diseases are projected to exceed $1.3 trillion per year by 2030.
---
How to Promote Healthy Eating
If carefully designed, subsidies to consumers -- including food subsidies to processors or traders, and subsidies provided through cash transfers, food vouchers and in-kind food transfers, including school feeding programs -- can increase total household food consumption, improve dietary diversity and nutritional outcomes, and decrease poverty rates. 7
Educating consumers about nutrition may be another way to expand the supply and consumption of healthy food. For example, in many areas of the world, small indigenous fish species are consumed entirely (including head, eyes, bones and viscera) and are an essential source of micronutrients.8 In comparison, species such as tilapia, tuna or salmon are often consumed only for their fillets, which represent from 30% to 70% of the fish, with the remainder being discarded. Simple processing technologies can convert heads and bones into nutritious and delicious products, for example, tuna frame powder, which was found to be highly acceptable to schoolchildren in Ghana when added to traditional recipes in school meals.
In addition, government-sponsored infrastructure improvements can increase the quantity and quality of foods available in markets, especially perishable foods, such as fruits and fresh fish.9 Proper and reliable drying and storage infrastructure is key to reducing carcinogenic mycotoxins (e.g. aflatoxins) in grain, nuts and related dry staple foods. Capital-intensive cold chains that meet food safety standards are needed for the distribution of perishable aquatic food.
Success stories of value chain development have emerged in remote and mountainous settings, where access to the market might be particularly challenging.10 For example, the Strengthening Local Development in the Highlands and High Rainforest Areas Project in Peru provided small-scale producers with access to financial and nonfinancial services, including technical assistance, market linkages and leadership skills to develop business plans.
The options available to transform agrifood systems need to be carefully considered and aim at encouraging cost-effective and efficient use of limited resources, so healthy diets can be more affordable for all.11
Footnotes
The State of Food Security and Nutrition in the World, Food and Agriculture Organization, United Nations, page vi
Ibid, xviii
Ibid, page 71
Ibid, page 70
Ibid, page 4
Ibid, page 3
Ibid, page 61
Ibid, page 69
Ibid, page 80
Ibid, page 124
Ibid, page 2