February was American Heart Month, when the CDC's Division for Heart Disease and Stroke Prevention shines a light on hypertension or high blood pressure, which is a leading risk factor for heart disease and stroke. Cardiovascular disease can affect adults of any age. And one in five adults who died of cardiovascular disease in 2019 were under the age of 65.1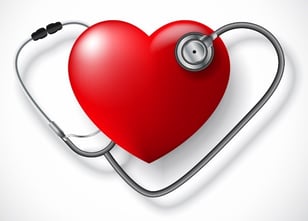 But February is also historically the peak month of flu season. So, how can the flu or other respiratory illnesses affect heart health?
Infection, inflammation are body stressors
An influenza infection stresses the body and can increase the risk of having a heart attack or stroke, and an underlying health issue like heart disease can cause the flu to transition into something worse. Pneumonia and bacterial pneumonia are the top complications. But cardiac issues like myocarditis, which is inflammation of the heart muscle, or arrhythmia can occur, and so too can stroke.
White blood cells are the body's first responders and cause inflammation in their fight to protect the body from an infection, bacteria or virus. This increased activity in the body can lead to blood clots, raised blood pressure and swelling or scarring of the heart. These stressors make plaque within the arteries more vulnerable to rupture, which can block oxygen to the heart or brain causing a heart attack or stroke.
Vaccination rates for high-risk groups are not suitable
Flu vaccination in high-risk heart health patients has been associated with a 28% reduced risk of heart attack, a 47% reduced risk of TIA (transient ischemic attack) and a 73% reduced risk of death.2 But the rate of seasonal flu vaccination among high-risk groups like those over the age of 50 and nursing home residents is extremely low.
Flu vaccinations are underutilized, so the American Heart Association partners with the American Lung Association and the American Diabetes Association to deliver the message to providers and the general public that all adults and most children should be receiving flu vaccinations every year.
Patients with high blood pressure, diabetes or emphysema critically need flu vaccinations because serious complications from the flu are greater for patients with chronic diseases. According to the American Heart Association's scientific journal Circulation, getting an annual flu shot can save heart failure patients' lives.3 As the population ages during the next decade, heart failure is expected to increase.
Reducing premature death
In the study published in the journal and funded by the Danish Heart Foundation, it was found that flu vaccination was associated with an 18% reduced risk of premature death, even after accounting for other factors like medications, other health conditions, income and education.3 And an annual flu vaccination following a heart failure diagnosis was associated with a 19% reduction in both all-cause and cardiovascular death when compared with no vaccination.3
Physicians and cardiologists who care for patients with heart failure must be aware of the benefits of flu vaccinations for these high-risk patients. Lead study author Daniel Modin, an investigator from the University of Copenhagen in Denmark, said flu vaccinations may be regarded as a standard treatment in heart failure similar to medications.
References:
1. Heart Disease Facts, The Centers for Disease Control and Prevention
2 Flu Vaccine Could Protect Against Serious Heart and Stroke Complications, The American Heart Association
3 Regular Flu Shots May Save Heart Failure Patients' Lives, The American Heart Association