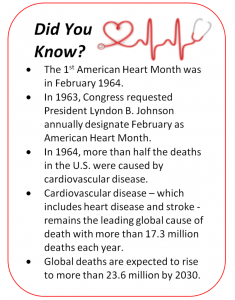 February is National Heart Month!
Heart disease – often referred to as cardiovascular disease – includes a number of conditions that affect your heart. One of the most common conditions is coronary artery disease (CAD). Others include heart or heart valve defects, narrowed or blocked blood vessels, and problems with heart rhythm.
Know Your Risks, Know Your Numbers…and Talk to Your Doctor
It is easier to treat heart disease when detected early, so discuss any concerns you may have about your heart health with your physician. There are also a number of actions you can take to reduce your risk of cardiovascular disease (see Lowering Your Risk of Heart Disease, below).
Heart Disease At-A-Glance
(includes Coronary Heart Disease, Hypertension, and Stroke)
Heart Disease is the number one cause of death in the U.S. - and
Cardiovascular disease accounts for about 1 of every 3 deaths in the U.S. - an average of 1 death every 40 seconds.
Stroke accounts for 1 of every 20 deaths in the U.S. This means someone has a stroke about once every 40 seconds and someone dies from a stroke about every 4 minutes.
Heart disease costs the United States about $200 billion each year. The total includes the cost of health care services, medications, and lost productivity.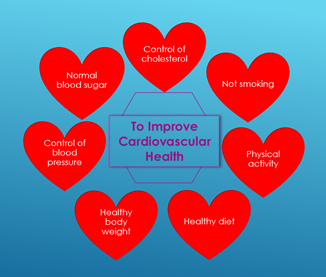 Heart Disease, Stroke and Cardiovascular Disease Risk Factors
The American Heart Association (AHA) gauges the cardiovascular health of our nation by tracking seven key health factors and behaviors that increase risks for heart disease and stroke. They include:
smoking
physical activity
diet
body weight
cholesterol
blood pressure
blood sugar
The AHA measures these seven factors to track progress toward the 2020 Impact Goal of improving the cardiovascular health of all Americans and reducing deaths from cardiovascular diseases and stroke by the year 2020.
Lower Your Risk of Heart Disease
An important aspect of lowering the risk of cardiovascular disease is managing health behaviors and risk factors, including diet quality, physical activity, smoking, body mass index (BMI), blood pressure, total cholesterol or blood glucose.
How to Prevent Heart Disease
Here are some things you can do to reduce your chances of heart disease.
Know your blood pressure and keep it under control.
Exercise regularly.
Don't smoke.
Get tested for diabetes - and if you have it keep it under control.
Know your cholesterol and triglyceride levels - and keep them within healthy ranges.
Eat plenty of fruits and vegetables.
Maintain a healthy weight.
You should also consider regular screenings to monitor your health. Check out the list of recommended screenings and the topics you should talk with your healthcare provider about during your yearly visit.

Know Your Risks, Know Your Numbers
Understanding your risks and knowing your critical health numbers can help you begin to change your health in a positive way – and lower your risk of heart disease.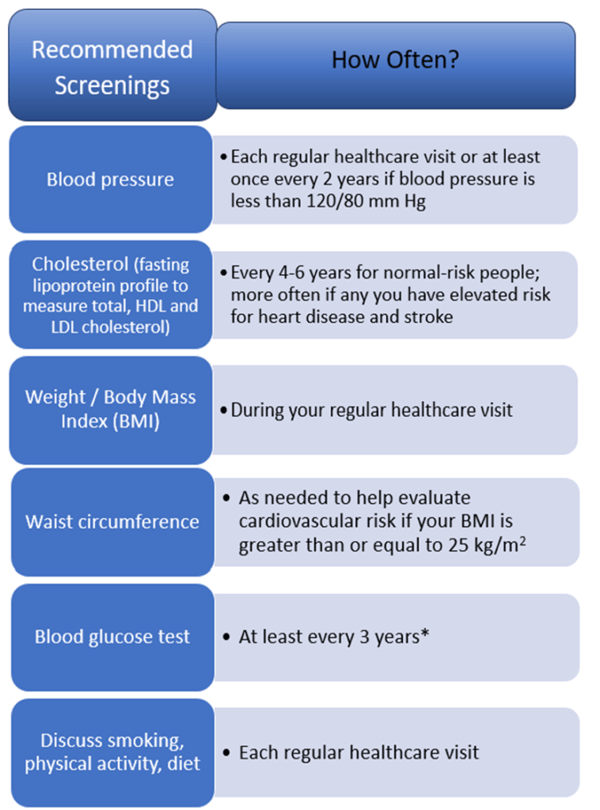 NOTE: As of June 2017, The American Diabetes Association recommends testing for prediabetes and risk for future diabetes for all people beginning at age 45 years. If tests are normal, it is reasonable to repeat testing at a minimum of 3-year intervals.
Want to learn more about Sekisui Diagnostics' cardiovascular diagnostic tests? Click here.