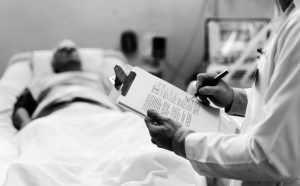 Sepsis was identified as the most expensive in-patient cost in U.S. hospitals in 2014, costing nearly $24 billion annually. Each year, over 26 million people develop sepsis, and it is responsible for the deaths of more than 5 million children. According to the Sepsis Alliance, severe sepsis takes the lives of 40% of those who contract it.
The Health Impacts of Sepsis
The Sepsis Alliance reports that - of those patients who survive - up to 50% are subsequently faced with post-sepsis syndrome. Sepsis survivors have a shorter life expectancy, can have a lower quality of life, and are 42% more likely to take their own life. Early detection of sepsis is key for ensuring survival and minimizing disability as much as possible.
Caused by any type of infection - from something as simple as a urinary tract infection to the flu or pneumonia - sepsis is fatal for one-third of patients who develop it. Furthermore, sepsis survivors are left irrevocably changed—facing chronic pain and fatigue, post-traumatic stress disorder, organ dysfunction and amputations.
How is Sepsis Detected?
Sepsis diagnosis is made by the patient's doctor after a thorough review of the patient's symptoms, history, and other relevant tests. Sepsis can be confirmed via a test that measures the levels of a protein in the blood known as procalcitonin.
PCT Biomarker for Early Diagnosis of Sepsis
A meta-analysis which included 30 studies and 3,244 patients found procalcitonin (PCT) to be a reliable biomarker for early diagnosis of sepsis. PCT values between ≥0.5 and 2.0 ng/mL suggest moderate risk, 2.0–10 ng/mL indicate high risk and values ≥10 ng/mL point to a high probability of developing severe sepsis and septic shock.
According to Diazyme Laboratories' 510(k) Clearance announcement on April 25,2017:
"Procalcitonin, a propeptide synthesized in the C-cells of the thyroid, has been identified to be more clinically useful and superior than currently used common clinical variables and laboratory tests in the diagnosis of sepsis. PCT is ubiquitously and uniformly expressed in multiple tissues throughout the body. In healthy conditions, PCT levels in circulation are very low. Rising PCT concentrations can be detected within 2 - 6 hours after infectious challenges and peak within 6 - 24 hours. Once an infection is under control, PCT levels decrease. This rapid response is highly specific to bacterial infections and has made PCT one of the most pertinent biomarker's used in detecting bacterial infection or sepsis."
The frequency of in-patient cases of sepsis, its high mortality rate and its potentially lasting effects demonstrate the need for better diagnostic tools in order for intervention and treatment to begin as early as possible. An easy-to-administer lab analyzer-compatible assay that can deliver results into the hands of clinicians quickly could have a significant positive clinical impact on halting the progression of sepsis in patients. This PCT assay may be the answer for your lab with a quick turn-around time, low sample volume and wide range of instrument parameters available.
What is the PCT?
The PCT is a latex-enhanced immunoturbidimetric assay. It was designed to be used on a wide variety of lab analyzers capable of reading absorbance at 600 nm. With this method, the PCT in the patient sample binds to specific anti-PCT antibodies on latex particles, causing them to agglutinate.
The relative turbidity created by the agglutination is then optically measured at 600 nm, and is proportional to the PCT concentration in the test sample. To calculate the PCT value, the optical signal is interpolated against a 6-point calibration curve. A suitable sample size is 20 µL, with initial test results available in just 10 minutes.
Is the PCT Assay Effective?
An analysis - Analytical evaluation of the procalcitonin (PCT) latex-enhanced immunoturbidimetric assay on Beckman Coulter AU5800 - involved assessing limit of blank (LOB), limit of detection (LOD), functional sensitivity, imprecision, linearity, carryover, and method comparison between Diazyme PCT and BRAHMS Kryptor PCT using 129 serum inpatient samples.
Linearity was very good in the range and highly significant agreement was seen between this PCT assay and BRAHMS in a range of concentrations.
As the first homogenous PCT assay meant to be used on clinical chemistry analyzers, it saves both time and money, and can help you save lives.
Want to learn more? We'd be happy to help! Feel free to contact us here.