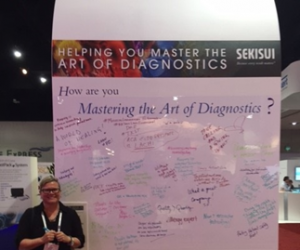 This year's 69th AACC Annual Scientific Meeting & Clinical Lab Expo brought the laboratory medicine industry to San Diego - with a record-breaking 21,300 laboratory scientists and related careers in attendance from July 30 through August 3. Sekisui Diagnostics exhibited at the show, among the more than 2,300 booths.
The range of content covered in the AACC sessions was broad, and some of the topics were relevant to either our clinical lab customers or to Sekisui itself.
One particular topic of interest:
One of the plenary sessions – Antibiotic Resistance: A Public Health Crisis – spoke to a globally critical issue we have covered – and will continue to cover here: antimicrobial resistance (AMR). The session noted the evolving diagnostic tools and strategies that can be implemented to help aid in the prevention & control of antimicrobial resistance in medical facilities. AMR has become a serious issue, and is starting to take on the feel of a crisis.Consider:
According to the CDC, every year more than 2 million Americans become infected with antibiotic resistant bacteria – resulting in at least 23,000 deaths.
Europe isn't faring any better. the UK government estimates that more than 25,000 deaths occur in the E.U. every year due to drug resistant infections.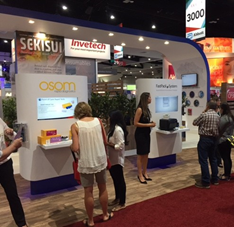 As the clinical laboratory industry, we all play a role in helping to solve the problem. Whether it's the development and deployment of new in vitro diagnostics, or medical practitioners & hospitals implementing better prescribing procedures, governments are starting to pay attention and act. We witnessed this recently with the European Commission's Health Action Plan Against Antimicrobial Resistance (AMR) report.
Among our extensive diagnostic product lines, the Fastpack® and OSOM® stations were especially busy. There was very strong interest in point-of-care diagnostics this year – a growing trend. We especially noted an uptick in distributors (especially in Asia) wanting to sell Sekisui Diagnostics' FastPack® IP system.
On the Whiteboard: How Are You Mastering the Art of Diagnostics?
This year we brought back something we'd done at a previous AACC show but with a new approach which ties into our corporate campaign- an interactive whiteboard where we asked laboratory professionals to share their thoughts on how they are "mastering the art of diagnostics."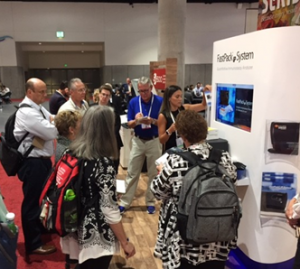 It was a great way to hear from people across the industry. Some writings were filled with best wishes, others with invaluable customer input and feedback. And while some of it may find its way into our promotional programs throughout the year, other whiteboard thoughts will help us understand the needs of our clinical chemistry customers better.
Thanks to everyone who attended this year – and an especially big thanks to the staff (and their weary feet!) managing the Sekisui Diagnostics booth.

We look forward to seeing everyone next year at the 2018 70th AACC Annual Scientific Meeting & Clinical Lab Expo in Chicago - July 29 through August 2, 2018!