Lab professionals, from assistants to medical lab technicians, work behind the scenes to assist physicians with patient diagnosis and treatment, and disease monitoring or prevention. The American Society for Clinical Laboratory Science calls these professionals vital healthcare detectives—the Sherlocks of the healthcare world who help detect cancer, different types of infectious diseases, heart attacks, and much more. So You Want To Be a Lab Professional?
There is often a lack of knowledge about this occupation, which in part stems from ignorance within the general public. Many think lab professionals are phlebotomists, collecting blood samples from patients all day long! Of course, those in the medical field understand the value of medical laboratory technicians and medical laboratory scientists. Let's talk about five reasons that these professionals are critical to patient care.
1) There's a Need!
There are approximately 300,000 practitioners of clinical laboratory science in the United States, but there's a need for more. Many schools no longer offer programs, which some attribute to a lack of interest. It takes two years of schooling to become a medical laboratory technician (MLT), and four to five years to become a medical laboratory scientist (MLS) (also called medical technologists). The two paths also require different certification exams
2) A Deluge of Tests
And not the kind you need to study for! Lab technology is ever evolving, and new tests are developed every year that improve the lab's role in aiding in the diagnosis and monitoring of diseases. Clinical laboratory scientists never stop learning and need to stay on top of these new developments to make sure they offer the best service to physicians and, ultimately, patients. They do this by including new tests in their labs offering to physicians. This is an important part of the more senior scientist's role.
As new tests are developed, and old tests are being improved upon, the volume of testing increases, meaning there will always be a need for specially trained technicians and scientists.
3) The Key to Diagnosis & Treatment
Oftentimes, a lab test, or tests, is the only way for a physician to confirm a diagnosis. According to InfectionControl.tips, lab professionals provide up to 70 percent of the medical laboratory results and data that physicians and others need in order to make informed decisions about a patients' diagnosis and treatment. The lab's vital work includes typing and matching blood for surgery and during emergencies, diagnosing infections such as MRSA to determine the correct antibiotic, analyzing proteins and enzymes to see if the major organ systems are functioning properly, diagnosing bacterial or viral infections, and much more. Lab professionals will also assist the physician with wellness testing, treatment plans, and monitoring patient progress.
4) Care & Efficiency
Part of a lab professional's job is to help improve inpatient care and efficiency. This goes hand in hand with #3, as it's important to help reduce unnecessary testing and referrals, saving both time and money, and to improve prevention and early diagnosis. In an era of accountable care, inefficient lab work can lead to higher costs and inferior quality.
5) Responding to Public Health Crises
In the public health setting, lab professionals are vitally important. They confirm the initial results in a suspected breakout and determine the epidemiological story behind an outbreak. Think Ebola, or Zika—how would crises like these be handled without sufficient lab professionals with the knowledge and know-how to identify these threats?
Celebrating Laboratory Professionals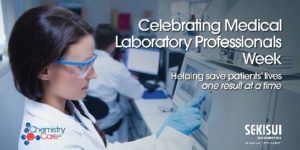 Sekisui Diagnostics appreciates lab professionals and wants to show them we care. Our ChemistryCare program features our specialized Clinical Chemistry Consultants who are healthcare professionals themselves and provide personalized attention with over 80 years combined experience. They offer solution-driven support for troubleshooting, improving workflow, lab efficiency and timely service
Every year the U.S. celebrates "Medical Laboratory Professionals Week" and every year we have done something to show how we value lab professionals. This year we ran a competition to win a banner to hang in the lab/ hospital. The competition was "Tell us why your results matter" and the best entries won. Here are some of the quotes we received. We hope they inspire you like they inspire us.
"Every result matters because it helps to determine the presence, extent or absence of disease and monitor the effectiveness of treatment."
"Our results are used to care for the tiniest babies to the biggest kids and all in between!"
"One of the benefits of working in the lab, is not interacting directly with patients. We are able to work dispassionately and without judgment or prejudice. We run every sample, give accurate and precise results and the same level of care for every patient regardless of creed, history, belief or economic status"
"Because Each result is essentially a Patient"
Maliha Hassan, Lab Manager, True Health Diagnostics LLC, Richmond, VA
Join in and celebrate the dedication and pride of all those who commit their lives to this profession!