Associations across the USA and Canada are joining together to recognize and appreciate the work of Clinical and Medical Professionals.
Medical Laboratory Professionals Week (April 23rd – 29th, 2023) is an annual event to recognize the work of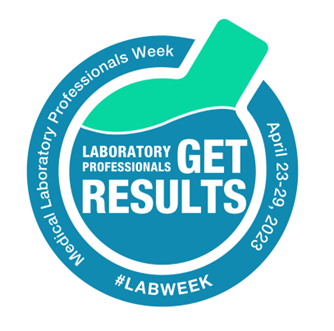 laboratory professionals, coordinated by 17 national clinical laboratory organizations.
Medical Laboratory Professionals Week originated in 1975 as National Medical Laboratory Week, or NMLW, under the auspices of the American Society for Medical Technology, now called the American Society for Clinical Laboratory Science (ASCLS). In subsequent years, other organizations have served as cosponsors and campaign supporters.
It provides a time to reflect on what happens behind the scenes – every day those results contribute to clinical decisions CDC's Division of Laboratory Systems also celebrates the 48th annual Medical Laboratory Professionals Week to recognize;
Communities, through their work in public health and clinical laboratories
Family members, friends, and colleagues who are patients in clinical settings
The theme for Lab Week 2023 is The Future is Lab. This year, we celebrate laboratory professionals who protect our future by skillfully adapting to meet today's evolving patient care and public health challenges with resilience, innovation, and expertise. This theme also creates awareness and excitement about working in a laboratory setting.
This year, SEKISUI Diagnostics will be sponsoring the Virtual 5K LAB WEEK RUN through ASCLS. This is the 8th Annual run. Register today to help us recognize our Clinical Laboratory Professionals!