Delivering an excellent customer experience isn't something that you can measure one time and not look to improve – customer expectations are constantly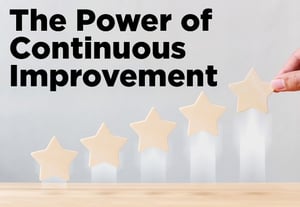 rising. What's seen as exceptional service today may not be the exceptional service of tomorrow. Continuous Improvement is the ongoing process to improve products, services or processes
Defining Continuous Improvement
Continuous improvement or "Kaizen" is embedded in Japanese culture. "In the years following World War II, American auto executives visited Toyota manufacturing plants in Japan to examine how the company was able to produce so many vehicles so quickly. They discovered a humanizing philosophy driving the manufacturer's innovation, one that intrinsically motivated workers to change process, procedures, and themselves for the better. Instead of punishing employees for errors, Toyota encouraged suggestions to management about how to reduce waste and improve efficiency.
As a result, Toyota's factories experienced fewer costly errors and benefitted from consistent improvement. This philosophy, Kaizen, is one that the American executives took home and has since revolutionized multiple industries, from healthcare to software development."
Tools Used in Continuous Improvement (CI)
Just Do It (JDI):
Just Do It (JDI) projects are improvements companies can tackle with ease with the potential for high results. If you think you know the solution for a problem and can make the proper changes in 24hrs – while considering if these changes don't work, you can return the problem to its original state – then just do it. If the solution is obvious and you just need the resources to execute the solution, then "Just Do It". A business can see instant improvements over simple adjustments.
Six Sigma and Lean
Lean is an elimination of waste
If you are missing deadlines, you need the ability to complete work faster by the removal of non-value-added activity. If you need to complete more activity in a set time frame, you need to eliminate waste and manage flow in a way that increases output.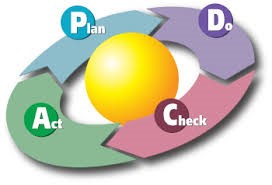 Six Sigma is a set of tools and techniques used to reduce variation.
If the problem has been an issue for a while and others have attempted to resolve the issue without a known root cause, it is probably a complex problem. If you are looking to understand the factors driving poor quality or causing high variability, you probably need a deep dive analytically to connect the dots. The Six Sigma methodology is:
Define the problem and outcome your team will work on. Define what your customer defines as "value" when making improvements
Measure which processes and inputs have the greatest impact on variation in your outcome. Develop a data collection plan and gather information
Analyze your gathered data with statistical methods to determine the part of the process causing the most unwanted outcome
Improve on a decision or solution set and develop monitoring plans to continue improvement
Control gains achieved during the previous phase and transition solutions (process) to the person responsible
In order to ensure the appropriate management of the processes, employees are trained in the Lean Six Sigma methodology. This can range from White Belt training where all employees are educated to the approach and tools available, to Green Belts who have been deeply trained on the Lean Six Sigma improvement methodology and will lead a process improvement team as part of their full-time job. Black Belts have an even higher knowledge and can be devoted to Six Sigma projects 100%.
Some of the tools used within Sekisui for Continuous Improvement;
Failure Mode Effect Analysis (FMEA)
Root Cause Analysis
Why-Why Analysis
Value Stream Mapping
Control Charts
Voice of the Customer (VOC)
Cost of Poor Quality (COPQ)
Since 2016 numerous improvements have been made across many functional areas within Sekisui Diagnostics including;
Production – reduction in product process variances
Finance – improved accounts reporting
Logistics – improved/streamlined stationery ordering
Production – improved the vial labelling process
Sekisui Diagnostics' parent company, Sekisui Chemical, is headquartered in Japan and is a diverse company spanning high performing plastics, urban infrastructure, and environment and housing. Continuous improvement is practiced throughout the divisions. There are regional competitions where Sekisui companies throughout Europe, the U.S., and Japan present their projects, which culminates in a global competition. Sekisui Diagnostics and our parent company are committed to continuous improvement to reduce inefficiencies which will ultimately benefit our staff, customers, and the environment.