Rapid Diagnostic Tests (RDTs) offer an important range of benefits – for patients, caregivers, healthcare systems as well as overall global health. These include:
Reducing time to diagnosis
Fewer patient visits
More accurate prescribing of medications
Potential for improved medical outcomes
Helping detect and control the spread of disease
Preventing Antimicrobial Resistance
A globally significant benefit of increased RDT use is the potential reduction of antimicrobial resistance (AMR, check here for more info). AMR is a critical global health issue, and by helping reduce the overuse of antibiotics the global health community can delay the onset of antimicrobial resistance.
"[Diagnostics] are seen as critical to the battle against antimicrobial resistance, the global significance of which was illustrated by its discussion at the United Nations (UN) General Assembly in September 2016. Diagnostics are also a core component of the World Health Organization's (WHO) Global Action Plan on Antimicrobial Resistance."
These benefits have led to increasing development and growing adoption of diagnostics in developed nations, but low- and mid-income nations still lag behind.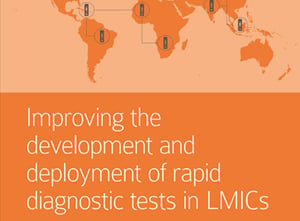 Increasing Global Adoption of RDTs
Earlier this year, the AACC published an article on Improving the Global Profile of Rapid Diagnostic Tests. In it, they highlighted discussions during a one-day workshop held by key stakeholders from the U.K.-based Academy of Medical Sciences (AMS) and the Inter Academy Partnership for Health in South Africa.
The panel, comprised of policymakers from these two health policy groups, issued a report calling for increased adoption of rapid diagnostic tests around the world.
The focus of the workshop was on barriers to the widespread adoption of diagnostics – with an emphasis on Low- and Mid-Income Countries (LMICs), as well as developing a series of possible solutions.
The AACC's article states: "Rapid diagnostic tests (RDTs) are crucial to saving lives in underserved nations, yet they rank low as a global priority, and a number of financial, regulatory, and clinical barriers are hampering their development."
Potential Solutions for Improving the Use of RDTs in LMICs
Low- and middle-income countries (LMICs) - which feature remote populations and potentially difficult environmental conditions - can be perceived as unattractive market opportunities for manufacturers of diagnostic tests. However the importance of RDTs in global health is well-known. From fighting the abovementioned AMR to stopping the spread of infectious disease, they offer a number of significant benefits to both patients and healthcare providers.
AACC summed up some of the potentially valuable steps the report drafters recommend to improve the use of diagnostics globally:
"To help raise the profile of RDTs, the report's authors called for the creation of an "essential diagnostics list" for transmissible infections such as Ebola virus or SARS-CoV, and an international organization to coordinate activities surrounding advocacy, resources, and expertise.
In other recommendations…LMICs need more flexible, upgradable tools that support disease surveillance and simple and inexpensive diagnostics to identify non-communicable diseases. Another application in LMICs that deserves attention, particularly in the area of surveillance, is next-generation sequencing and disruptive technology." [read more]
Three of the solutions discussed in a separate 2016 report by the Academy of Medical Sciences, "Improving the development and deployment of rapid diagnostics tests in LMICs", are particularly relevant to the global diagnostics industry:
Locally-Driven Patient-Focused Development
As pointed out, there are two distinct aspects to diagnostics development that come into play: practical issues and 'human factors.'
On the practical side, developers must take into account:
reliability in the face of environmental challenges
the likelihood of an intermittent electricity supply and lack of refrigeration facilities.
The human factors cited include:
attitudes towards testing
clinical training and practices
the often-limited availability of necessary accessories
Consideration of – and emphasis on - these two characteristics "will ensure that diagnostics development is more needs-driven than technology-driven."
Enhanced Regulatory Environment
The global regulatory infrastructure tends to be fractured and complicated, creating a need for an outcomes-focused, "coherent, internationally integrated regulatory framework for diagnostics" in which "stringent regulatory regimes should not present unnecessary obstacles to diagnostics developers." It is recommended that regulators should place a higher priority on patient pathways and outcomes.
More Flexible Diagnostic Tools
Generally, diagnostics have historically focused on individual conditions or pathogens – but flexible or multifunctional platforms which support differential diagnosis can better address the challenges facing LMICs. The report points out that "these could include multiplex tests that detect multiple pathogens or platforms (such as cartridge-based systems) that support the use of different individual tests. There are also advantages to testing approaches that can be rapidly updated, for example to take account of pathogen evolution and changes in antimicrobial resistance."
Want to learn more? The AACC article about the panel's report can be found here - on AACC's website. You can read the full report that was issued here: Improving the development and deployment of rapid diagnostic tests in LMICs.