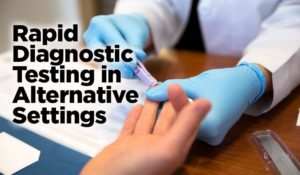 Rapid Diagnostic Tests, or RDTs, allow patients to be diagnosed at the point-of-care (POC). Every year, thousands of patients are diagnosed with the strep and flu by their GP using RDTs. These extraordinarily useful tools are also used to diagnose HIV, mono, malaria, and more!
The perks to POC testing are numerous: receiving a diagnosis at the point-of-care means less time at the doctor's office for the patient and decreases the likelihood of multiple visits. The patient has a better chance of receiving the correct treatment more quickly, and diagnostic testing reduces the dependence on presumptive treatment. Point-of-care testing can also reduce antimicrobial resistance and lessens the clinical and financial burden on healthcare services.
But even sitting in a doctor's office can be time-consuming and constraining. While some patients may live an hours' drive from their provider, approximately 91% of Americans live within five miles of a community pharmacy. It should be no surprise that pharmacies are taking on a greater role in patient care.
Changing How the Game is Played
RDTs are literally game changers, and how the game is played is still evolving, all over the world. Point-of-care testing is being used at retail clinics and pharmacies to the benefit of both the patient and the pharmacy.
Providing these services gives both the retail clinics and pharmacies an opportunity to enhance revenue by expanding patient care services while improving health at the patient and population levels. In the United Kingdom, some pharmacies are providing certain tests, such as on-the-spot throat swab tests, at a cost of £9.50 with the goal of creating an alternative revenue stream while providing additional patient services and assisting in removing costs from the healthcare system. The Pharmacist also has the opportunity to provide advice about managing their condition and recommend products to help with symptomatic relief.
In the U.S., a June 2018 article published by Pharmacy Times detailed a survey in which 69% of responding pharmacists would be willing to perform point-of-care testing in a community pharmacy setting. And more respondents, 86%, would be willing to recommend appropriate treatment for influenza and streptococcal pharyngitis, indicating they have the knowledge and skills to do so.
But aren't pharmacies already increasing revenue by providing vaccinations, such as the flu vaccine? In fact, according to the National Community Pharmacists Association, point-of-care testing is predicted to exceed immunizations as a driver of revenue for community pharmacies. Opportunities include acute infectious testing (flu and strep A), chronic disease screening (HIV, Hepatitis C, lipids), and chronic disease monitoring (diabetes and anticoagulation therapy).
The Fight Against AMR
Antimicrobial resistance (AMR) is the ability of a microbe to withstand drugs previously used against them. While some may believe this is a distant threat, it's a very real and current problem. The CDC estimates that two million Americans are infected with antibiotic-resistant bacteria every year, and there are over 44,000 deaths annually from sepsis in the U.K.
Point-of-care testing is a powerful tool available in the fight against AMR. Because the AMR crisis is driven in part by the over-prescribing of antibiotics a single use, rapid test can aid decision-making before medication is prescribed, and can prevent the unnecessary use of an antibiotic.
Small Opportunities are Often the Beginning…
… of great enterprises. Or so said Athenian orator Demosthenes! The Association of American Medical Colleges reports that the U.S. could see a shortage of up to 120,000 physicians by 2030, and a shortage of between 42,600 and 121,300 physicians by the end of the next decade. This is further impacted by an increasing and aging population—the number of individuals over age 65 will increase 50% by 2030! In the U.K., a recent national survey of family doctors found that almost two in five are likely to quit direct patient care within five years.
This shortage of primary care providers, along with improvements in technology, have created an opportunity. An opportunity for pharmacists to expand their role in disease management, screening services and better health outcomes.
In the U.S., pharmacies are currently the fourth highest-ranking facility of CLIA-waived laboratories with 10,838 locations. That's over 10,000 opportunities for expanded availability of point-of-care diagnostic testing that could benefit the patient, physicians, and pharmacies, with added benefits such as reducing the spread of infection and reducing the risk of AMR.
Patient Perspective
We know opportunity exists, and we know many pharmacists are interested in grasping this opportunity, but what do patients think? For the patient, it's all about convenience and accessibility. Pharmacy point-of-care testing provides expanded hours and less time waiting, the convenience of walk-in availability, lower costs (in some countries), and the ability to get medication more quickly. For the patient, what's not to love?
Meeting Future Needs
With shortages of laboratorians and physicians, this can be a dynamic opportunity for point-of-care testing. The use of sensitive and specific rapid tests has an important role to play in various locations for early diagnosis and treatment.

Sekisui Diagnostics offers several solutions that pharmacies worldwide can use to expand their offerings, including the OSOM® Ultra Flu A&B Test, OSOM® Strep A Test, OSOM® RSV/Adeno Test (for Respiratory Syncytial Virus (RSV) and/or Adenovirus), OSOM® Trichomonas Test (Trichomonas vaginalis), and OSOM® BVBLUE® Test (bacterial vaginosis)*.
*Some products are not available in all markets