Nearly every adult American has been the victim of at least one diagnostic error, according to a 2015 report by the National Academy of Medicine. At least one in seven times a diagnostic error is made, the patient is treated ineffectively as a result, often with severe consequences. A recent study from Johns Hopkins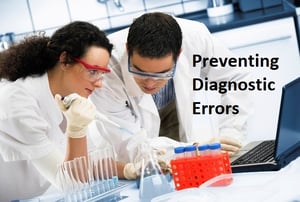 points to medical error – the largest component of which is diagnostic error – as the third leading cause of death in America.
A promising plan to improve the situation involves a unique kind of medical collaboration.
The National Academy of Medicine in the US has endorsed the increased use of expert diagnostic teams in providing two important services to all treating healthcare providers:
Recommendations for the appropriate tests to evaluate a patient.
A patient-specific, expert driven interpretation of the test results within the clinical context of the patient.
These expert groups, which unite people from clinical practice and the medical laboratory, are sometimes known as Diagnostic Management Teams, or DMTs. These teams could be key to halting trends in diagnostic error. Leading them, however, requires people who work at the intersection of research and practice – and recognizing laboratory medicine and the people that practice it as a vital component of today's complex healthcare system.
Creating a new group of experts to lead diagnostic management teams
Nearly 20 years ago, an idea arose to create doctoral level individuals trained as clinical laboratory scientists. The analogy was made to those who earned the doctor of pharmacy degree, which had proven to be a significant step forward. Why not have doctoral level individuals become leaders of some kind in the clinical laboratory?
National leaders in the education of clinical laboratory scientists conferred with pathologists and reached an important conclusion: individuals with a Doctorate in Clinical Laboratory Sciences (DCLS) could learn much diagnostic medicine through additional coursework and clinical experience, including participation in diagnostic management teams. There are currently three schools that have DCLS programs:
Rutgers University
University of Kansas Medical Center
University of Texas Medical Branch (UTMB) in Galveston.
Each of these are 3- to 4-year programs that involve participating in diagnostic management teams, rounding with clinical teams in the hospital, and taking courses to understand diagnostic testing in areas outside the clinical laboratory.
If each DCLS program graduates five to 10 individuals per year, most of the individuals leading diagnostic management teams will be DCLS graduates. They will have started by performing tests on patient samples at the bench, typically have developed into supervisors, and then obtained a doctoral degree. The clinical experience during their training focuses on building the knowledge and confidence to provide consultations on laboratory test selection and patient-specific result interpretation.
To put it plainly, these individuals are medical pioneers. The DCLS and other similar roles will fill the gap between physicians and laboratory medicine.
There is also underway a non-pathology physician study evaluating patient outcomes differences between when a DCLS is present for bedside rounding versus when a DCLS is not present for bedside rounding, with the hypothesis that patient outcomes are more favorable when a DCLS is present. So far, over $1.3 million in savings from test order optimization and ensuring correct test interpretation by clinicians has been documented. This provides evidence that, while there is currently no mechanism for payment for DCLS practitioners, there is certainly value to medical institutions to add a DCLS to their clinical laboratory staff for improving both facility finances and patient care.
The move to DMTs is also reducing the time it takes to diagnose patients and reduces unnecessary testing.
Many unanswered questions
There are operational issues that need to be resolved before DCLS graduates can lead DMTs: there is no mechanism for payment for their activity by insurance companies using established codes, and the people concerned need to agree to take on the same consultative role as MD and non-MD specialists and go beyond the traditional roles of clinical laboratory scientists. It is a major cultural change for individuals who have previously focused on the performance of the assay and not the clinical significance of the assay result as it pertains to specific patients. But the expertise is there: the DCLS programs are attracting very highly qualified individuals. A major change in the past 10 to 20 years has been a recognition by most practicing physicians that a test menu with thousands of options, many of which are extremely expensive at hundreds to thousands of dollars, and often with a large genetic component which is poorly understood by most physicians, requires the input of experts that are available when needed, and that the need is large.
DMTs and the DCLS professional will revolutionize the medical laboratory profession by placing the focus on upstream care and diagnostics versus downstream data. It will place a face on our professionals which will impact understanding of clinical laboratory science by all students at all levels of education because they "will see us" in patient care. We will no longer be a hidden profession. Importantly, the medical laboratory has significant shortages that rival or exceed nursing and others in healthcare professions.
Conclusion
Diagnostic errors affect all of us often with severe consequences. Diagnostic management teams that focus on recommendation of appropriate tests result in quicker and more accurate diagnoses – and a dramatic cost savings to obtain a diagnosis. The concept of using such teams has been endorsed by the National Academy of Medicine. There is a shortage of diagnostic management team leaders among pathologists and PhD laboratory directors. These are highly qualified individuals, but there are too few of them. Clinical and medical laboratory scientists willing to move beyond the performance of tests at the bench, learn in detail the diagnostic requirements for disorders within a clinical category, and become available at all times like other clinicians will reduce diagnostic error and the costs associated with it. It is now timely for these individuals to take their place as leaders in the clinical laboratories.
To learn more about the #DCLS and #DMTs, see: http://outbreaknewstoday.com/doctorate-clinical-laboratory-science-dcls-dr-rodney-rohde-91657/
Article adapted from: Preventing diagnostic errors by uniting the clinical laboratory with direct patient care: Doctoral programs are preparing experts to lead diagnostic management teams at hospitals, with promising early results. April 18, 2019 Elsevier Connect
Authors: Michael Laposata, MD, PhD and Rodney E. Rohde, PhD [Twitter @RodneyRohde]