SEKISUI Diagnostics' previous blog talked about the food-as-medicine movement, that is, the effort on the part of physicians and medical institutions to make food a formal part of treatment, rather than relying solely on medications. In this blog, we explore how advocates of "food as medicine" are bringing the concept out of the textbook and into the homes of people with chronic and other diseases.
Overwhelming evidence supports the potential relationship between dietary factors and diet-related diseases such as ischemic heart disease, diabetes, and certain cancers.1 Evidence also suggests that while diet has the potential to contribute to disease, it is also capable of building, maintaining, and restoring health.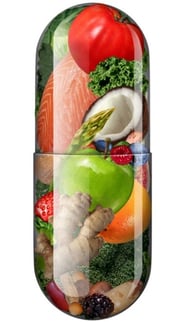 Despite all that is known about food and health, poor diet is still responsible for more deaths globally than tobacco, high blood pressure, or any other health risk, leading to the deaths in 2017 of almost 11 million people, or 22% of all deaths among adults.2 One reason may be a lack of focus on diet and health on the part of organized medicine, beginning in medical school. Another is food insecurity.
Culinary Medicine
Traditionally, medical students have not been required to take basic nutrition courses, contributing to a lack of confidence among healthcare providers when speaking to patients about using food as a treatment to manage disease.1 That may be changing.
The growing field of culinary medicine explores the links between food and health, applying the foundations of nutritional science along with traditional medical interventions in clinical care.3 An example is the University of Michigan Food for Life Kitchen at Michigan Medicine, a dedicated, hands-on learning space which serves as a hub for several programs where food and health intersect.
Another is the Goldring Center for Culinary Medicine at Tulane University's School of Medicine in New Orleans, Louisiana, which provides hands-on training for medical students and residents.4 The Center also offers continuing medical education classes for licensed medical professionals including physicians, physician assistants, nurses, nurse practitioners, dietitians, and pharmacists.
A third example is the Lake Erie College of Osteopathic Medicine in Erie, Pennsylvania.5 The college launched its culinary medicine program in 2013, when orthopedic surgeon Beth Dollinger M.D., decided to investigate teaching nutrition to medical students. The culinary medicine program has also incorporated the FoodRx program to focus on addressing food insecurity seen in clinics.
---
"The growing field of culinary medicine explores the links between food and health, applying the foundations of nutritional science along with traditional medical interventions in clinical care."
---
Does incorporating culinary medicine training into medical school curricula achieved desired results? Researchers at the University of Maryland School of Medicine asked themselves that question after the school mandated culinary medicine training for all 2019-2020 first-year medical students.6 Pre-/post session questionnaires assessed nutrition knowledge, skills, and attitudes as well as nutritional counseling confidence. All nutritional and patient counseling outcomes improved. Also noted were themes of being better prepared to address healthy eating barriers in patient care and personal ability to make healthy dietary changes.
Food Insecurity
Perhaps an even bigger barrier than lack of medical professionals' knowledge or experience with "food as medicine" may be food insecurity, that is, limited access to nutritious food owing to cost.
In the United States, approximately 20% to 30% (6 million to 9 million) of Americans with diabetes report food insecurity each year.7 A healthy diet may be the cornerstone of diabetes management, but food insecurity incents the consumption of inexpensive, calorie-dense food of little nutritional value. Poor dietary quality among individuals with diabetes and food insecurity, as assessed by the Healthy Eating Index 2010 (HEI 2010) score, is associated with worse glycemic control and increased diabetes complications. Further, food insecurity is associated with increased risk of hypoglycemia, a serious adverse event related to diabetes therapy.
Medically Tailored Meals
Implementing "food as medicine" principles amidst food insecurity is no easy task, but many community organizations, health systems and others are working hard to do just that.
Medically tailored meals are designed with the specific nutritional and dietary needs of patients in mind.1 In the United States, some Medicaid programs cover these programs, and mounting evidence points to improved patient health outcomes and a reduction in the need for expensive treatments.
A study in the Boston metropolitan area7 demonstrated that people with type 2 diabetes who received medically tailored home delivery of 10 meals per week for 12 weeks experienced improvements in almost all sub-categories of Healthy Eating Index, or HEI, score, with increased consumption of vegetables, fruits, and whole grains, and decreased solid fats, alcohol and added sugar consumption. Researchers also reported lower food insecurity, less hypoglycemia and fewer days where mental health interfered with quality of life.
Produce Prescription Programs
Closely related to medically tailored meal programs are produce prescription programs, where doctors or other healthcare providers (e.g., registered dietitians and pharmacists) "prescribe" certain foods (mostly fruits and vegetables) to help targeted patient populations prevent or manage chronic disease.8 These prescriptions are fulfilled through food retail.
In June 2022, the College of Medicine and Integrated Health in London hosted the fourth annual Food on Prescription conference as part of the College of Medicine's vision for better healthcare in the next decade, with emphasis on good nutrition at a local and national level.9 (Eight months earlier, in October 2021, the College launched the "Beyond Pills" campaign, calling on the government to tackle overprescribing of medications and encouraging social, non-medical, community-based interventions to address specific issues and long-term health conditions.10)
Produce prescription programs have expanded across the United States as well. A 2020 report identified a total of 108 produce prescription programs across 38 states, with nearly a quarter of all identified programs launched in 2019 alone.8 Examples include:
Tulsa FreshRx, from Crossover Health Services in North Tulsa, Oklahoma, which provides people with type 2 diabetes fresh fruits and vegetables every two weeks for one year in addition to lifestyle, nutrition and cooking classes.

In Syracuse, New York,

Joseph's Health Food Pharmacy

offers people with type 2 diabetes enough fresh and healthy food for two meals a day, five times a week, for the patient and members of the household in addition to nutrition counseling and diabetes management group sessions.
Operation Food Search in St. Louis, Missouri operates

Fresh RX: Nourishing Healthy Starts

, which aims to enhance birth outcomes for food-insecure mothers and their infants. The program offers weekly produce shares from a Combined Supported Agriculture Program in addition to cooking classes, nutrition resources and supportive services during pregnancy.
Reinvestment Partners in North Carolina manages a statewide produce prescription program called

SuperSNAP

in which SNAP recipients (referring to the Supplemental Nutrition Assistance Program, a program to supplement the food budgets of families in need) who have been identified by healthcare providers receive $40 per month to spend on fresh fruits and vegetables at over 500 Food Lion store locations across the state.

Grady Health System

in Atlanta, Georgia,

in conjunction with the Atlanta Community Food Bank and Open Hand Atlanta, operates

Jesse Hill Market, a public café offering affordable prepared meals, grab-and-go entrees and sides, and local, fresh produce.

11
Sekisui Diagnostics, through its Social Justice Donation Program, supports food-as-medicine programs around the world, including:
World Central Kitchen, first to the frontlines, providing meals in response to humanitarian, climate, and community crises. WCK builds resilient food systems with locally led solutions.

https://wck.org/

Meals on Wheels, Prince Edward Island. Each chapter is a standalone not-for-profit organization that aims to deliver nutritious meals to food-insecure seniors and others in need in the community.

https://mealsonwheelspei.ca/

The Upper Room, located in Charlottetown, Prince Edward Island, which gives out food hampers three times a week to those in need. Food hampers consist of a variety of canned/boxed goods and vegetables, meat and fresh fruit when available.

https://www.urhm.org/food-bank/
References