Many Americans have probably never heard of respiratory syncytial virus (RSV), despite the fact that the CDC issued a warning in late 2018 cautioning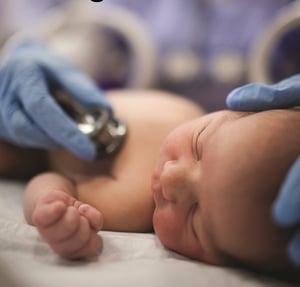 parents of children under age one to monitor symptoms that could indicate RSV. Likewise, just as it tracks the flu every year, the CDC also monitors the total number of RSV tests performed at participating labs nationwide.
The CDC calls RSV a common respiratory virus that usually causes mild, cold-like symptoms. While most individuals easily recover without medical intervention, it can lead to serious health problems in infants and older adults. In 2017 the World Health Organization (WHO) estimated that RSV causes around 33 million serious respiratory infections a year. This results in more than 3 million hospitalizations and nearly 60,000 deaths in children under 5 years of age every year. Nearly half of these hospitalizations and deaths are in children under 6 months of age. Parents of young children are more likely to be familiar with RSV, but all ages are affected. Because it's often mistaken as the flu, it's only recently that researchers have gained an understanding of its impact on the elderly. RSV infections can spread rapidly among older adults living in communal settings, infecting 5% to 10% of nursing home residents per year, causing death in 2% to 5% of cases.
The Difficulty in Diagnosis
There is an overlap of symptoms with many upper respiratory diseases such as cold and flu. Because of the overlap in symptoms and timing, clinicians must take care when making a diagnosis. Symptoms of RSV include:
Runny nose
Decrease in appetite
Coughing
Sneezing
Fever
Wheezing
Symptoms typically do not appear simultaneously, and in very young infants the only symptoms may be irritability, decreased activity, and breathing difficulties. While most people recover within one to two weeks, RSV can cause more severe infections. Young children, premature babies, the elderly, those with compromised immune systems, and those with other underlying health conditions are at a higher risk for these types of complications.
Diagnosis & Treatment
RSV can occur at any time, but it's more likely in colder months of the year. Mild RSV infections can be treated with over-the-counter medications to help with symptoms and control fever. More severe cases may require supplemental oxygen, intravenous fluids, and bronchodilators. Researchers are working to develop vaccines and antivirals, but while there are up to 60 vaccines currently in development with 16 candidates in clinical development, none of these vaccine candidates have made it to market.
Because RSV can more severely impact children and the elderly, proper diagnosis is important. Molecular testing is appropriate for all age groups. While immunoassays are proficient at diagnosing infants and/or adults, there is a growing need for testing in the elderly population. Each year an estimated 177,000 older adults are hospitalized and 14,000 of them die in the United States due to RSV infection.
Sekisui Diagnostics is aware of the challenges in RSV testing and offers the OSOM® RSV/Adeno rapid test, which is available in Europe, the Middle East, and Africa
as well as the Silaris® RSV Test just being launched in the US which uses molecular technology, is CLIA Waived and designed for use at the point-of-care
Testing at the point-of-care enables physicians to make the best treatment decisions possible when patients need it most. While most patients will recover from RSV without intervention, the most vulnerable patients—infants and the elderly—benefit from rapid results that allow for optimized treatment.