Technology is changing our lives in ways many of us couldn't have imagined even 20 years ago. Cars that alert you if you drift over the line, connects wirelessly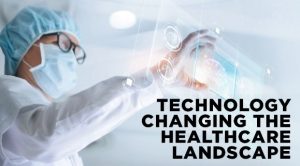 to your smart phone, and brakes automatically if you're about to run into something. Simply put, in many ways it's smarter than we are!
Technology has been shifting the healthcare landscape for decades, from electronic medical records to the life-changing gadgets used to save lives. But in recent years, tech companies have entered and altered the healthcare industry in an entirely new way. Between 2012 and September 2018, the top 10 tech companies in the U.S. have spent a total of $4.7 billion on healthcare acquisitions! This changing landscape makes some antsy—let's break down the major players and their recent strategies.
A Match Made in Heaven?
At first it seems an odd match—while the tech industry moves in leaps and bounds, the healthcare industry is infamously inefficient and slow to change. What many tech companies see, however, is opportunity. According to CMS, the healthcare industry in the U.S. is worth $2.8 trillion. Inefficiency and customer dissatisfaction go hand-in-hand, meaning room for improvement and money to be made, and because the industry is so vast, big companies have many prospects without competing with each other.
While to the average consumer it still may not make a whole lot of sense, anyone who has spent time in a hospital likely knows two things: 1) It was expensive, and 2) the experience and process were disorganized at many levels. The companies that are dipping their toes into the healthcare industry, such as Amazon, have a history of shaking up existing business models—Amazon transformed retail shopping. For them, healthcare may be the next great change.
The Major Players
Amazon
Amazon brings experience and a reach to each of its ventures that is hard to match. According to CB Insights, Amazon has a direct distribution advantage to over 300 million active customers, 100 million Prime members, and approximately 5 million sellers on the site.
In early 2018, Amazon, Berkshire Hathaway, and JPMorgan Chase joined together to form an independent healthcare company for their U.S. employees. The announcement sent stocks for insurers and other major health companies tumbling. Just a few months later, Amazon acquired online pharmacy startup PillPack for about $750 million. At the time of the deal, PillPack was expected to make $299 million in annual revenue. In 2019, that number is expected to reach $635 million, before doubling again to $1.2 billion in 2020. Again, the deal made shockwaves, sending stock prices for brick-and-mortar pharmacies plummeting. Just recently Amazon began marketing PillPack's at-home prescription drug delivery to Amazon Prime members and created a webpage about the service.
Finally, in late 2018 the company introduced Amazon Comprehend Medical, a HIPAA-compliant tool that allows developers to process unstructured medical text and identify information such as patient diagnosis, treatments, dosages, symptoms and signs, and more.
If you'd like to read more about Amazon's foray into healthcare, CB Insights published an in-depth report about the company and its efforts.
Alphabet
You may not have heard of Alphabet, but it is the parent company of both Google and Verily Life Sciences (formerly a division of Google). Through Verily and DeepMind, an Alphabet acquisition that deals in artificial intelligence solutions, Alphabet is investigating how to use artificial intelligence (AI) to treat disease by using data generation, detection, and positive lifestyle modifications.
The company increased its stake in health insurance startup Oscar Health to 10% with a $375 million investment, and also invested in Clover and Collective Health, companies that seek to disrupt the health insurance sector.
According to CB Insights, Google is the most active tech corporate investing in healthcare in the U.S., investing in 14 of the 15 largest healthcare raises in 2018 that included big tech companies. Check out CB Insights' Google analysis here.
Apple
In addition to opening health clinics for its employees, Apple has several initiatives to provide health services to its customers. The company has partnered with a growing list of hospitals and clinics to support health records on the iPhone, enabling users to view data such as immunizations, lab results, medications, and vitals directly in the Health app. Last November, it was reported that Apple is in talks with the U.S. Department of Veterans Affairs to provide veterans access to electronic medical records on the iPhone.
The company also received FDA clearance to provide a new feature on the Apple Watch—the ECG app can record the user's heartbeat and rhythm using the electrical heart sensor on Apple Watch Series 4 and then check the recording for atrial fibrillation (AFib).
Apple is working with Aetna on a health experience dubbed Attain, an app for the Apple Watch that gives users personalized goals, allows them to track their daily activity levels, recommends healthy actions, and rewards them for taking these actions to improve their well-being.
The company is busy—it also acquired sleep monitor company Beddit in May 2017, and personal health data platform Gliimpse in 2016.
Uber
Granted, if you aren't that familiar with Uber than you may question their addition to the list, but in March 2018 the company launched Uber Health, which helps find rides for patients and caregivers and is HIPAA-compliant. The web-based dashboard allows hospitals and other providers to request, manage, and pay for rides for others, at scale. It is available everywhere that Uber is available.
What Does it All Mean?
It's often difficult to analyze what changes mean as those changes are happening. The tech giants we discussed here don't seem to be competing with each other—yet—and some seem more focused on improving the health of their own employees first. The scale and complexity of the healthcare industry could be difficult to overcome even for these giants. That being said, the revenue-generating opportunities appear to be more than enough incentive for these companies to take the leap. As their stories play out over the next few years, the hope is that the industry as a whole, including patients, will benefit.