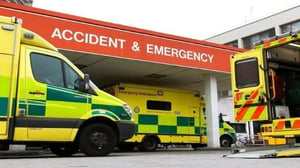 The use of Point of Care Testing (POCT) in hospitals is on the rise across Europe. In particular Emergency Departments (EDs) are adopting flu rapid tests to speed up time-to-diagnosis and address the burden on departments during flu season.
Rapid influenza diagnostic tests (RIDTs) are immunoassays for the identification of influenza A & B viral antigens in respiratory samples. In Europe, influenza generally occurs in epidemics between November and April each year – similar to the U.S. and other regions in the Northern Hemisphere.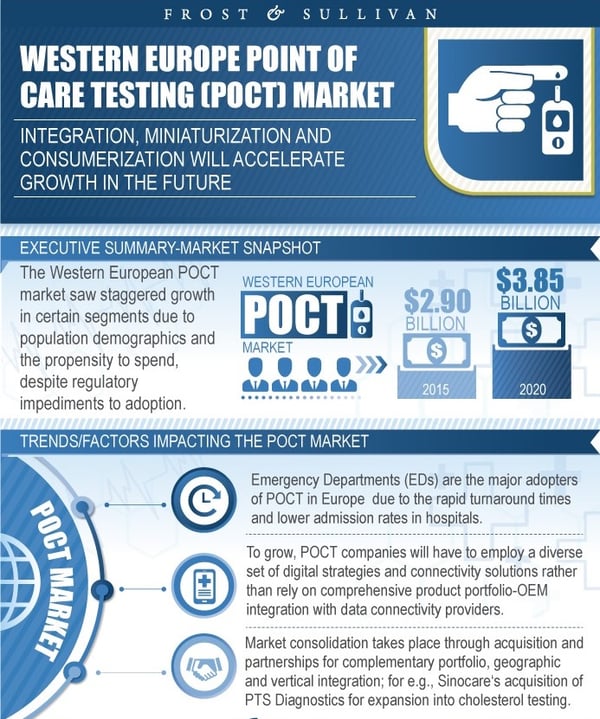 Rapid tests are not as widely used in Europe at the point-of-care as they are in the U.S. – primarily due to cost and performance issues. While using rapid tests does incur some additional cost, the savings provided by proper patient management can help offset the initial cost of the test.
Current Challenges in Testing for Influenza
During flu season, emergency departments must keep up with high demand for testing and diagnosis. While the duration of illness is often short, influenza brings with it a heavy economic & healthcare burden.
Looking specifically at the EU and countries in the European Economic Area, an average of 18% of people who are not vaccinated are infected by influenza viruses each winter. Easily spread to others, the infection proves fatal in 15,000-95,000 people each year. The European Centre for Disease Prevention and Control's Factsheet about Seasonal Influenza, has slightly different figures, stating that flu "causes 4-50 million symptomatic cases in EU/EEA each year, and 15,000–70,000 European citizens die every year of causes associated with influenza.
Because flu-like symptoms occur in many other infections besides an influenza virus, care must be taken to accurately pinpoint the diagnosis. In Europe there has always been a preference for making a clinical diagnosis based on symptoms.
As antibiotics are not effective against viral infections, flu testing supports effective antibiotic stewardship – helping conserve the supply of antibiotics available to treat life-threatening infections. In some cases, antiviral treatment can effectively lessen symptoms, speed recovery, and reduce complications like ear infections in children and pneumonia in adults.
Significant Benefits of Rapid Tests for Flu in Emergency Departments

Rapid testing is a viable solution that is especially well-suited to the demands of accident & emergency departments.
Flu Rapid Tests:
support clinical decision-making and treatment.
improve bed management.
can be used by non-laboratory staff.
decrease unnecessary testing.
provide results in 15 minutes or less.
In addition, positive test results allow for the immediate implementation of infection control and prevention techniques - minimizing the spread of the virus in the ED or in other clinical settings.
OSOM® Ultra Flu A&B Performs Well in ED
Sekisui Diagnostics OSOM® Ultra Flu provides emergency departments with an advancement in flu rapid test technology. It is cleared for sale in the U.S. and Europe.
In a recent study of 500 patients published in the Journal of Clinical Virology, the OSOM® Ultra Flu test was proven to perform well in emergency departments. The authors noted, "…given the diagnostic performances even among elderly patients and reading of the results by ED personnel and the speed of obtaining the result, the OSOM® Ultra Flu A&B can be considered a decision-making tool adapted to the ED context."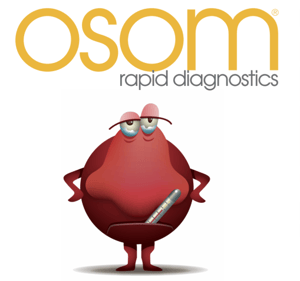 "We evaluated the capacity of ED personnel, nurses and physicians, to perform and read the RIDT. Our results indicate excellent consistency in reading the test with external personnel at the virology laboratory. These results allow us to envisage the use of the OSOM® Ultra Flu A&B Test at point-of-care in the ED after training nursing and medical teams. Currently, in some EDs suspected or compatible cases of influenza are not isolated or treated.
…providing a test performed early in the ED process, near to the patient, by an ED staff member and with a result available in less than 20 min, should allow us to set up a quality programme aimed at reducing the risk of influenza nosocomial transmission."