In just a few months, the novel coronavirus has rapidly swept across the globe. And just as quickly as the virus began accelerating, government officials have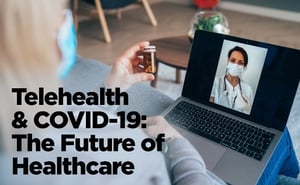 imposed lockdowns, business closures and are encouraging people to stay home.
Social distancing has become the new mantra to fight the spread of the virus. However, this collective effort to curb the virus' reach through self-isolation has made it challenging for patients to access healthcare and for providers to follow their standard care delivery model.
As a result, both providers and patients are experiencing telehealth- many for the first time. Telehealth providers report a surge in provider onboarding and patient visits, with companies like Teladoc reporting a 50% increase in visits and MDLive seeing as many as 20,000 new patient registrants on a daily basis.
A Safer Response to COVID-19
In an effort to minimize transmission of the disease and protect healthcare workers while still allowing for necessary healthcare interactions, the CDC has recommended alternatives to face-to-face interactions with doctors and clinic visits, including:
Instructing patients to use available advice lines, patient portals, online self-assessment tools, or call and speak to an office/clinic staff if they become ill with symptoms such as fever, cough or shortness of breath.
Identifying staff to conduct telephonic and telehealth interactions with patients.
Develop protocols so that staff can triage and assess patients quickly.
Determining algorithms to identify which patients can be managed by telephone and advised to stay home, and which patients will need to be sent for emergency care or come to your facility.
Instructing patients that if they have respiratory symptoms they should call before they leave home, so staff can be prepared to care for them when they arrive.
As more providers adopt telehealth technology, those seeking advice or treatment for COVID-19 can access doctors, nurses and other health professionals from the comfort of their own home and providers can continue supporting patients with ongoing health conditions. By drastically reducing the need for in-person interaction, the telehealth initiatives are helping to 'flatten the curve' while also allowing for a less disruptive shift in healthcare delivery.
Benefits for Patients and Providers

With Opportunity Comes Challenge

Although telehealth has served as a critical tool for providers, especially during this time, it does have its challenges. It cannot replace in-person testing and hospital or ICU admissions for severe cases of the virus, nor is it a valid model for all care settings or patient populations. There is also concern around the increased risk for data breaches due to increased exchange and storage of healthcare data.
For Patients

For Providers

Potential for reduced quality of care.
Significant onboarding for providers and support staff.
Negative impact on patient experience, due

to technology glitches.

Regulation barriers and privacy concerns.
Potential for additional follow-up visits due to
Limited physical examination and testing could lead to incorrect diagnosis.
May only be a good option for basic care
Concern over reimbursement viability.
Reduced privacy regulations, especially during

this COVID-19 crisis.

Increasing number and risk of cyberattacks.
Will Telehealth Be the New Normal?
This pandemic has flipped the world upside down. And it has especially shaken up the healthcare delivery model. The acceleration of telehealth response has offered a unique period, or test, to see just how far technology can take healthcare. Moving forward, the question remains, could telehealth be the new normal? While many providers and patients may go back to 'normal' after this time of isolation, one thing is certain: a telehealth revolution has just begun.