The year 2022 presented all kinds of problems for the healthcare community.
2022 came with setbacks and disappointment for the healthcare community, such as workforce shortages, the lingering effects of COVID-19, climate change and monkeypox. But lessons have been learned and the hard work to address these challenges continues. In Part 1 of a two-part series, we talk about workforce issues, COVID-19 and digital care. In a following blog we will talk about social determinants of health, monkeypox and climate change.
Workforce issues
Reports about healthcare workforce shortages and burnout have been disturbing, particularly since the onset of COVID-19. The percentage of physicians reporting burnout rose from 61% in 2021 to 65% in 2022, according to a survey by Jackson Physician Search and the Medical Group Management Association (MGMA).1 Half of the physicians reported considering leaving their practice for a different job in healthcare.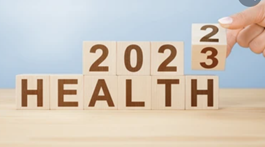 Crises in nursing are well-publicized as well. The biggest obstacle healthcare organizations face is staffing, Janet Tomcavage, MS, executive vice president and chief nurse executive at Geisinger Health in Danville, Pennsylvania, said in a recent interview.2 "We have had to close beds because we do not have enough staff. The other challenge is an experience gap. We are seeing fewer experienced nurses staying at the bedside.
e.Workforce shortages in long-term-care facilities and home care have reached a crisis point. "The past two years will go down as one of the most turbulent periods that our nation — and the field of long-term services and supports (LTSS) — has ever experienced," wrote researchers from LeadingAge LTSS Center@UMass Boston in a commentary in Health Progress, the Journal of the Catholic Health Association of the United States.3
According to the U.S. Bureau of Labor Statistics, the LTSS sector lost nearly 342,000 jobs from February 2020 to December 2020, a 5% decline. Jobs in nursing homes declined by 9%, followed by declines in residential care (7%) and home care settings (3%). Direct care professionals leaving the LTSS field were more likely to be healthy, younger and white. Those who remained on the job represented populations already at heightened risk for contracting and transmitting COVID-19, i.e., people over age 55 and those who are Black or Latino.
Solutions
Solving the shortages of long-term-care workers may be difficult, though not impossible. LeadingAge LTSS Center @UMass Boston recommends that direct care professionals:3
Receive high-quality, competency-based training, both initial and ongoing.
Earn a living wage and meaningful benefits commensurate with their competency level.
Enjoy good working conditions and skilled supervision.
Have access to a variety of career advancement opportunities.
Be respected and appreciated by their employers, care recipients, and the public.
COVID-19
Although the incidence of COVID-19 has abated, the healthcare community faces a challenging aftereffect – Long COVID. Between 7.7 million and 23 million people in the United States could have Long COVID, according to U.S. government estimates.4 Meanwhile, a study of tens of thousands of people in Scotland found that one in 20 people who had been sick with COVID reported not recovering at all, and another four in 10 said they had not fully recovered from their infections many months later.
In 2022, public health and medical experts asked whether the world community was better prepared to address future pandemics than they were in 2020. Some said no, but others were more optimistic.
In an October 2020 report5, the Council on Foreign Relations reported that the world can't afford to wait for nations to learn from experience whenever a novel pathogen emerges, the Council wrote, "The virtual inevitability and high potential toll of future pandemics make investments in preventive and mitigatory measures both sensible and cost effective. The amount required to prevent and mitigate such incidents pales in comparison to their costs."
---
"The virtual inevitability and high potential toll of future pandemics make investments in preventive and mitigatory measures both sensible and cost effective. The amount required to prevent and mitigate such incidents pales in comparison to their costs."
---
Digital care
Digital care, including telemedicine, exploded during COVID-19. Meanwhile, developments in another realm of virtual health, remote monitoring – emerge daily. The challenge will be to implement these technologies, with all their information-sharing and data-gathering capabilities, most effectively in patient care.
In the United States, telehealth utilization among recipients of Medicare and other major commercial payers accounted for less than 1% of outpatient claims in 2019.6 In 2020, however, 44% of Medicare beneficiaries had at least one telehealth visit.
An offshoot of remote monitoring is the rise in consumer wearables, such as fitness trackers. The global market for fitness trackers exhibited a growth of 19.5% in 2020 and is projected to grow from USD 36.34 billion in 2020 to USD 114.36 billion in 2028.7 Several wearable devices are finding their way into clinical settings. The data collected may help doctors or helpers research, understand and analyze what practices should be adopted to offer quick recovery, improved decision-making, and desired health outcomes.
References