According to the CDC, rates of sexually transmitted infections have risen for the past four years to record highs in the United States, and rates are on the rise in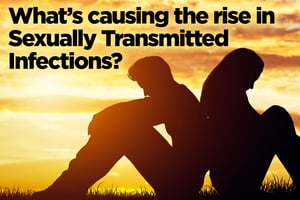 other parts of the world as well, with about one million curable STIs contracted worldwide every day. Yes, you read that correctly—one million per day.
According to WHO, there are an estimated 376 million new infections each year with one of four STIs: chlamydia, gonorrhea, syphilis and trichomoniasis. Part of the problem is that the majority of STIs have no symptoms or only mild symptoms that may not be recognized as an STI. These diseases are easily spread because people are unaware that they have them. In some cases, STIs can have serious reproductive health consequences, including infertility or mother-to-child transmission.
Much of the world is educated about STIs (aren't they?)—so what's causing what Jonathan Mermin, director of CDC's National Center for HIV/AIDS, Viral Hepatitis, STD, and TB Prevention, calls a slide backwards?
A Strain on the System
Programs that aim to educate, identify, and treat STIs are already strained, according to Mermin. The president of the British Association for Sexual Health and HIV, Dr Olwen Williams, recently said that sexual health services are at a breaking point, with "severe and damaging cuts" to sexual health service funding. In low-income countries, testing is expensive and geographically inaccessible, let alone educational opportunities on how to avoid contracting an STI.
In the U.S., the strain continues to worsen. In August of this year, Planned Parenthood announced it is giving up the federal funds used to pay for STI testing and treatment at its health centers across the country. The program is known as Title X and also subsidizes birth control for low-income patients and supports preventative care services, such as Pap smears and mammograms. Planned Parenthood gave up the $60 million in funding rather than comply with a new federal rule that bars programs that receive Title X funding from providing information about abortion.
Other Contributing Factors
Pressures within the healthcare community and funding cuts are not the only reasons why STI rates are on the rise. Comprehensive testing is available, at least in high-income countries—better tests equal more diagnoses. Inexpensive, rapid tests are currently available for syphilis and HIV that can provide results in 15 to 20 minutes. According to WHO, rapid tests for other STIs are under development that could improve STI diagnosis and treatment even more.
Experts have also pointed fingers at the popularity of dating apps like Tinder, which have the potential for users to have a more casual approach to sex. Because of the casual nature of many of these encounters, it can be difficult to contact previous partners to stop the spread of infections after a diagnosis. The idea that the digital age has impacted STI rates is a bit far-fetched to others. A recent study of over 26,000 individuals revealed that millennials, AKA those most likely to use these apps, are less sexually active than people from older generations. Additionally, officials studying pockets of these diseases say the situation is more complex.
STI rates are also on the rise for older adults, perhaps due to individuals in this age bracket not using contraception. According to the AARP, there were 82,938 cases of gonorrhea, syphilis and chlamydia reported among Americans 45 and older in 2016, about a 20 percent increase over 2015. The increase in infection rates among older Americans was larger than for the rest of the population.
Finally, a stigma remains associated with all aspects of STIs: discussions with a partner or potential partner, education, visiting a sexual health clinic and getting tested, and more. The CDC encourages healthcare providers to commit to making STI screening and timely treatment a standard part of medical care, especially for the populations most affected. In low-income countries where services are available, education is critical to ensuring those at risk are aware of and utilize these services.
What Can We Do?
WHO works with countries to beef up effective STI services, promote strategies to enhance STI-prevention impact, and support the development of new technologies for STI prevention. On the provider level, doctors should talk to patients about STIs and test for infections at annual exams.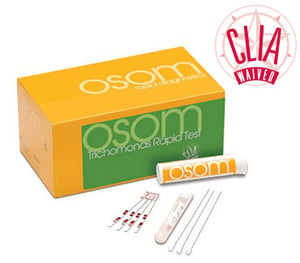 Sekisui Diagnostics' OSOM Trichomonas Test is a point of care test for Trichomonas that allows the patient to be tested and treated in one visit. Trichomoniasis is a common STI caused by infection with a protozoan parasite called Trichomonas vaginalis. Although symptoms of the disease vary, most people who have the parasite cannot tell they are infected.
Sekisui also offers an automated RPR test for Syphilis. Automated RPR testing enables both tests for syphilis to be run on the same clinical chemistry analyser, providing workflow benefits to the lab and significant efficiencies in turnaround time. This test is not currently available in the U.S.
Ultimately, better counseling, diagnosis, and treatment of STIs is needed. According to WHO, research illustrates the need to focus on carefully defined populations, consult with those target populations, and involve them in the design, implementation, and evaluation of better programs