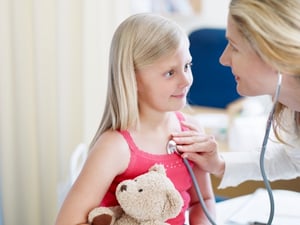 Diagnostic Testing at the Point-of-Care: Improving Patient Outcomes While Reducing Practice Costs
Whether it's diagnosing vitamin D deficiencies, managing thyroid disorders or monitoring prostate cancer, one clear motivation for performing diagnostic testing in-house is the ability to minimize return patient visits for medical decision-making, thereby enhancing patient care.
The average physician's office sends out a range of samples for testing by hospital, central or reference labs. However, the expanding presence of on-site POLs [ demonstrates that diagnostic testing at the point-of-care (POC) can improve patient outcomes while reducing practice costs and creating additional revenue opportunities. These are several key reasons for starting up a POL. Some other reasons include:
Healthcare reform and patient-centered care
Technological advancements (faster, easier-to-use devices)
Laboratory staff shortages
Increasing older population and more chronic disease
Rising incidence of lifestyle diseases (e.g., cardiac, diabetes)
Increasing trend toward healthcare decentralization
Long-term savings
Rural locations with limited lab services
In many cases, bringing some of these outsourced tests in-house can offer other benefits to doctor's offices, including:
Increased Efficiencies: allows the practice to function more efficiently, with improved staff efficiency & lower labor costs
Convenience: allows the physician to deliver results in person, face-to-face, which can foster better patient understanding, retention, and compliance
Marketplace Differentiation: can provide a competitive advantage for the practice to differentiate it from other practices
Improved Quality of Care: eliminates the risk that the patient does not return in a timely fashion
Improved Practice Sustainability: requires less patient record review from previous visits.
MACRA: What this means to the POL
The Medicare Access and CHIP Reauthorization Act (MACRA) will change how Medicare pays for physician services. Most physicians will be paid under the default track of the new program known as the Merit-based Incentive Payment System (MIPS). MIPS Provides incentives and penalties of Medicare professional service payments based on quality and cost performance vs. volume of procedures/tests performed.
Because MACRA rewards clinicians for value over volume same day point-of-care testing can improve two key MACRA objectives: outcomes and quality of care. Diagnostic tests such as Flu, Strep, PSA, Fecal Occult Blood (for colorectal cancer screening) and others are all tests which address MACRA quality measures and move patients along the road to recovery faster while reducing health risks. (SOURCE: https://qpp.cms.gov/mips/quality-measures) Learn more about the full Quality Payment Program.
Physicians' Office Point-of-Care Testing: Getting Started
When considering what tests to bring in-house, you'll need to have a thorough understanding of what would be required – from upfront costs, space & staffing, to time or training if upgrading to moderately complex testing.
Once a comparative value of advantages and disadvantages has been explored, your office can make a determination of which tests would be good candidates for your in-house Physician Office Lab.
How a Point-of-Care POL Works
While there are key differences in each medical practice, there are some commonalities among the requirements for a POL: startup funds, appropriate space, staff to train and allocate to testing, and a sufficient testing load to make it feasible and profitable.
Among these requirements the top three considerations are: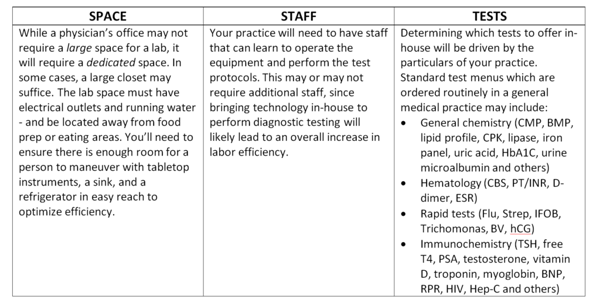 Whether your practice is looking to perform CLIA-waived assays or moderately complex assays, it's important to find a diagnostic test supplier that can address a broad assortment of testing solutions, including instrumentation, assays & supplies.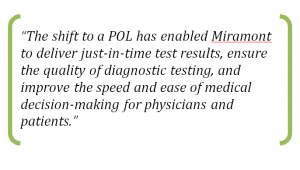 A Review From a Healthcare Provider
Miramont Family Medicine is a mid-size physician's office in Colorado that was seeking a way to provide the highest-quality care while maintaining the lowest-cost services to their patients. When Miramont Family Medicine adopted their Patient-Centered Medical Home (PCMH) model - implementing a Physician Office Laboratory (POL) was key part of the model. Their goals were to:
Improve patient outcomes
Improve their patients experience, by ensuring patients receive the necessary care when and where they need it
Provide greater patient convenience,
Improve practice efficiency and productivity
Miramont found that using their POL resulted in patients receiving their test results during their office visit, which ensured they immediately received their diagnosis and care regimen. Also, Miramont found that utilizing their on-site POL significantly reduced staff labor costs from the 20 minutes it used to take to prepare and send out tests to only 10 minutes per test.
Want to Learn More About Physician Office Labs?
The Sekisui Diagnostics team understands what medical practices need to effectively create and run a POL and can provide them with a comprehensive product line for point-of-care testing.
Contact us today to learn more.