Globally Prostate cancer is the second most commonly occurring cancer in men. There were approximately 1.3 million new cases in 2018. The American Cancer Society's estimates for prostate cancer in the United States for 2020 include: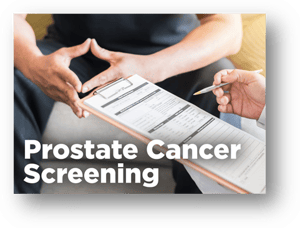 about 191,930 new cases of prostate cancer.
about 33,330 deaths from prostate cancer.
about 1 man in 9 will be diagnosed with prostate cancer during his lifetime.
Prostate cancer develops mainly in older men. About 6 cases in 10 are diagnosed in men aged 65 or older, and it is rare before age 40. The average age at the time of diagnosis is 66.
(Read more at the American Cancer Society).
African-Americans at Higher Risk
According to the Prostate Cancer Foundation: "African-American men are the group – out of all men in the world – hardest hit by prostate cancer…[and] are 1.6 times more likely to get prostate cancer, and more than twice as likely to die from it."
An article at Wiley's Newsroom pointed out:
"a new study indicating that higher prostate cancer death rates among black men in the U.S. may be due to a higher risk of developing preclinical prostate cancer, and a higher risk of that cancer progressing more quickly to advanced stages. The investigators estimated that 30 percent to 43 percent of black men develop preclinical prostate cancer—prostate cancer that is not symptomatic—by age 85, a risk that is 28 percent to 56 percent higher than that among men of any race."
This further highlights the need for prostate cancer screening among at-risk populations.
The PSA Test
The Prostate-Specific Antigen (PSA) test measures the level of PSA in a man's blood. Because the PSA biomarker is only expressed in prostate tissue, it can aid in the early diagnosis of prostate cancer.
PSA Testing: Controversy…or Just Confusion?
The confusion surrounding the use of PSA testing — when to screen and when not to screen — continues because prostate tumors may be very slow-growing (in general, about two-thirds of prostate tumors are categorized as slow-growing), and require only monitoring.
It is important to understand that the controversy around PSA screening is not about the PSA test, but rather about when or whether to treat based on the test result.
Since the FDA approval of the PSA test in 1994, the age-adjusted mortality rates for prostate cancer in the U.S. have declined 50% (In that time period, mortality due to prostate cancer has declined more than mortality for any other type of cancer.
The value of PSA screening in terms of early detection of prostate cancer and reducing related morbidity, mortality, and cost is well established, when implemented in combination with passive surveillance.
The latest recommendations from the the U.S. Preventative Services Task Force (USPSTF) state that ;
"For men aged 55 to 69 years, the decision to undergo periodic prostate-specific antigen (PSA)–based screening for prostate cancer should be an individual one. Before deciding whether to be screened, men should have an opportunity to discuss the potential benefits and harms of screening with their clinician and to incorporate their values and preferences in the decision."
PSA – 15 Minute Results
Testing confusion aside, two of the benefits of the PSA test are the ease of testing and rapidity of results. Patients - tested in a doctor's office during a visit - can receive the results in 15 minutes.
This can potentially eliminate the need for a follow-up visit to review results - and allow the doctor and patient to develop a follow-on plan of action - if any is needed - during the initial visit.
Sekisui Diagnostics offers two tests (please note that only one is currently available in the U.S.). The FastPack® IP Total PSA immunoassay is a chemiluminescent immunoassay for the in-vitro quantitative determination of PSA in human serum and plasma as an aid in the management of patients with prostate cancer. It offers results in 12 minutes.
The FastPack® IP Free PSA Immunoassay, not currently available in the U.S., is a chemiluminescent immunoassay for the in-vitro quantitative determination of free prostate-specific antigen (free PSA) in human serum. It is designed for use in conjunction with the FastPack® IP System for calculating the ratio of free/total PSA, expressed as a percentage (percent free PSA). A free PSA test can be used instead of a biopsy if PSA levels are slightly elevated and may be used to determine how aggressive a recurring cancer is.